Yphtach Lelkes to Join the Annenberg Faculty this Fall
His research focuses on how media environments influence people's political opinions, attitudes, and voting behavior.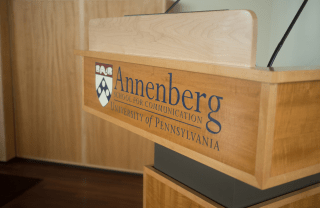 Long before the job was even posted — before he even got his Ph.D. in Communication — Yphtach Lelkes hoped to someday join the faculty at the Annenberg School for Communication. "The school's high standing, the excellent research, the location — It was always a bit of a dream job," he says.
He feels very lucky right now.
Starting in September, Lelkes will become an Assistant Professor of Communication at the Annenberg School for Communication.
His main area of research is the way that media environments influence people's political opinions. This includes topics like how media influences political attitudes and voting behavior; how access to a wider array of media contributes to civic participation; and how partisan media affects trust.
Lelkes is a fan of the "natural experiment," where changes in real world conditions allow researchers to study a topic that normally would be too complex to parse.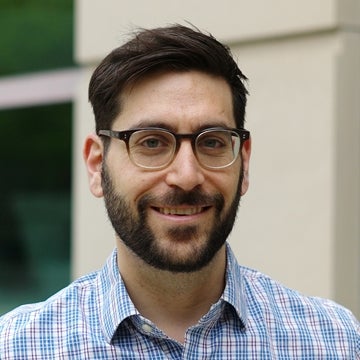 For example, households in the U.K. switched from analog to digital television at different time points, and when they did, the number of channels available multiplied. Lelkes combined data on media availability by postal code with longitudinal survey data to discern how that access to more media influenced political activism..
He has also studied a phenomenon called affective polarization, whereby Republicans and Democrats today don't necessarily disagree with each other more than they did historically, but they dislike each other significantly more.
For example, in 1960, 5% of Americans said they would be unhappy if their son or daughter married someone from another political party. Today, that's about 40%. Today Americans also rate the opposite party vastly more selfish and less intelligent.
For someone who studies the often polarized, rancorous realm of modern American politics, Lelkes has had an interesting vantage point of late: Since 2012, the Milwaukee-native has been an Assistant Professor of Political Communication at the University of Amsterdam.
Studying America from abroad has its advantages and its disadvantages, he says.
"Having some distance on American politics has allowed me to enjoy it a bit more," he says. "Things seem less drastic in a way, and I'm surrounded by a media environment that has different perspectives on things that we don't really question in the U.S."
At the same time, he adds, he's now looking forward to being immersed in the environment of his research, where people are intrinsically interested in the subjects.
After graduating from the University of Wisconsin-Madison in 2005, Lelkes pursued a Masters Degree in Political Science from Temple University. At the time, he was partly drawn to the program by his family living in Philadelphia, but through the course of his study, he became excited to work with faculty who studied political behavior and political psychology.
This led him to a Ph.D. in Communication at Stanford, where he combined his interests in Political Science and Communication, and also got a Ph.D. minor in Social Psychology.
He has published papers in the Journal of Politics, American Journal of Political Science, Political Communication, Public Opinion Quarterly, and PNAS, among others, and has won several awards, including a Google Research $75,000 grant and the 2015 Roberta Sigel Award for Best Paper Presented at the International Society for Political Psychology Conference by a Junior Scholar (with Sean Westwood).
As he begins packing and looks ahead to his new job, Lelkes is all about the people. "I look forward to being in a stimulating environment with such creative and smart people, working with really good Ph.D. students and smart, enthusiastic undergrads," he says.
On a personal level, Lelkes plays guitar and rock climbs — "both at a mediocre level, but enthusiastically" — and is looking forward to Mexican food, American humor, and a chance to do some camping.
"I can't wait to get started and be part of the Annenberg community," he says.