Photo Credit (top image): Caroline McFarland / Unsplash
2023 Fellows
Jeanna Sybert
University of Pennsylvania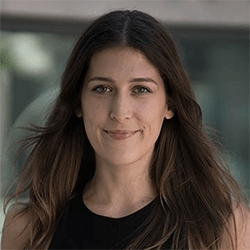 Jeanna Sybert is a doctoral candidate at the Annenberg School for Communication at the University of Pennsylvania. Her research considers the affective, discursive, and material dimensions of newswork and how they intersect with the threats facing journalism today. She is particularly interested in how journalists make sense of such challenges as they navigate difficult stories that heighten the demand for news.
Sybert's dissertation approaches these issues through the lenses of journalistic precarity, labor, emotionality, and risk. Examining a clustering of recent critical events, the project brings into focus the cascading impacts of an increasingly precarious occupation for journalists, the institution of journalism, and the broader information landscape.
Sybert's interest in disruptive moments has produced an array of other work grappling with the cultural politics of social media platforms as well as collective memory practices in the wake of catastrophe. Her research has been published in New Media & Society, Journalism, and Journalism Practice.
Before joining Annenberg, Sybert received her B.A. in Communication & Rhetoric and Political Science from the University of Pittsburgh where she graduated summa cum laude.
She will be a Fellow at Free Press.
Lucas Wright
Cornell University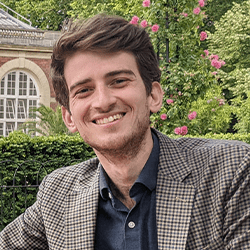 Lucas Wright is a Ph.D student in the Department of Communication at Cornell University. He researches the behavioral effects of digital governance, especially through automated interventions, and with a focus on online communities. Prior to Cornell. he conducted policy research with both civil society and academic institutions. He has a MSc in Social Science of the Internet from the University of Oxford and a BA in Political Science from American University. He is also a graduate affiliate of the Center for Information, Technology, and Public Life at the University of North Carolina. 
Wright will be a fellow at National Telecommunications and Information Administration.

Ahmed Alrawi
Pennsylvania State University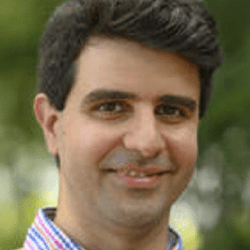 Ahmed Alrawi is a Ph.D. student at the Donald P. Bellisario College of Communications, Penn State University. He earned a bachelor's degree from the College of Communications at Al-Mansour University in Baghdad, Iraq, where he majored in telecommunications engineering. Additionally, he earned another bachelor's degree in telecommunications before he achieved his master's degree in media studies — with both of those from Bellisario College.
Alrawi's research interests are twofold: (1) Surveillance, Privacy, & the Psychological Implications of ICTs and (2) Broadband Policy and Deployment. Alrawi's research offers theoretical contributions in terms of law, policy, and regulation concerning emerging technology and broadband policy and deployment that intersect with the psychological implication of ICTs in the fields of telecommunications and media industry, not only in the United States but also internationally, such as in the Middle East, China, and South Korea.
Alrawi's current research focuses on the following two areas: first, the legal and psychological implications resulting from the state surveillance processes using telecommunication and digital technology on individuals; second, broadband policy and deployment in the Middle East, specifically in the Arab Gulf countries, and in South Korea, China, and the United States.
Alrawi is fluent in Arabic, Turkish, and English and is conversant in French. He has won multiple awards, including, but not limited to, the Sidney and Helen Friedman Scholarship Endowed Award and the Graduate School Endowment Award.
Ahmed will be a Fellow at Benton Foundation.
Benjamin P. Tetteh
Syracuse University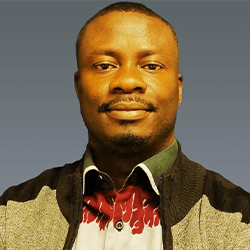 Benjamin P. Tetteh is an award-winning Ghanaian journalist and PhD student in the Newhouse School of Public Communications. His research focuses on media economy and representation with comparative analysis on the US and the African region.His work also focuses on the threats to editorial independence while also looking to newsroom innovations in diversifying revenue models. Prior to his studies at Syracuse University, Benjamin was a broadcast journalist with Ghana's biggest private media, the Multimedia Group (Joy FM), and later with the Open Society-funded West Africa Democracy Radio in Dakar, Senegal. He has covered major news and produced special documentaries for major outlets including the BBC and UN News. Benjamin holds a bachelor's degree in psychology from the University of Ghana and a master's degree in Journalism (Digital Innovation) from New York University.
Benjamin will be a Fellow at the United States Agency for Global Media.
Timilehin Durotoye
Pennsylvania State University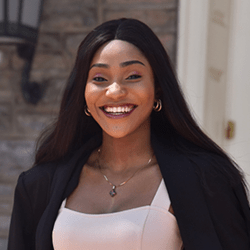 Timilehin Durotoye is a Ph.D. student in the Donald P. Bellisario College of Communications at the Pennsylvania State University. Her research explores the causal relationship of social media, artificial intelligence, and digital media surveillance on political benchmarks of democracy. Specifically, she focuses on how digital media spaces and AI tools facilitate or constrain different forms of political communication/behavior and revolutionalizes our understanding of users' capacity to process and exchange data or online information.
Prior to joining the doctoral program at Penn State, Durotoye worked as a project manager at a Pan-African non-governmental organization focused on building the leadership, civic, and community engagement skills of young professionals and social entrepreneurs. She was also a research assistant for an independent, non-partisan organization- The Partnership for African Social and Governance Research (PASGR), where she contributed to studies investigating governmental policies and political landscapes challenging domestic/global activism. Durotoye holds bachelor's and master's degrees from the University of Ibadan, Nigeria, where she studied Communication and Language Arts.
Durotoye will be a fellow at Open Markets.
Anirban Mukhopadhyay
University of Illinois Urbana-Champaign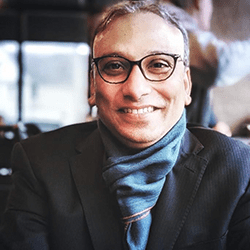 Anirban is a doctoral student at the Institute of Communications Research, University of Illinois Urbana-Champaign. He explores the historical and present entanglements of communication technologies and how media policies shape and govern the complexities of the entangled mediasystems.
In his dissertation, he wants to trace the history of broadcasting policies and radio in India from the early post-independence years to the end of the twentieth century. His project will investigate how the shifting politics behind state broadcasting policies attempted to mold All India Radio (AIR) as a governmental tool to solidify citizenship and national identity. By investigating the roots of the Indian media system and its evolution, this project inquires, on the one hand, how state power governs media technology and, on the other, how the critique and contestation of state power evolves in a postcolonial milieu. Anirban holds a MA in Mass Communication and a BA in English Literature from the University of Calcutta, India.
He will be a Fellow at the United States Agency for Global Media.
Talia Berniker
Cornell University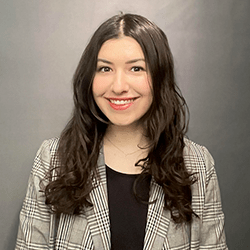 Talia Berniker is a Ph.D. student in Communication at Cornell University. Broadly, her research uses qualitative methods to examine how emerging communication technologies are represented in policy and media. Currently, she is studying the advertising of domestic smart home devices and working on the development of a public statewide internet of things (IoT) network in New York. Previously, Talia assisted with research at the Shorenstein Center on Media, Politics and Public Policy and The Berkman Klein Center for Internet & Society at Harvard University, as well as the The Center for Social Media and Politics at New York University. She has an M.A. in Arts Politics from New York University and a B.A. in Media Studies and Advertising from the University of Oregon.
Berniker will be a fellow at the Federal Communications Commission. 
Emilie Grybos
University of Pennsylvania
Emilie Grybos is a PhD student at the Annenberg School for Communication at the University of Pennsylvania. Taking a feminist approach to science, technology, and media studies, her research unpacks how Silicon Valley's monolithic corporations, its mythologized technologists, and their commodified technologies work together to propagate ideas of innovation and democracy. She traces how power operates through institutions, individuals, and technologies to understand how inequality is reproduced and maintained, as well as how the values perpetuated in such patriarchal systems can be challenged.  Outside of her research, Emilie is committed to academic service and has recently completed a tenure serving on Annenberg's Graduate Student Council. Prior to joining Annenberg, Emilie received her B.S. in Electrical and Computer Engineering and B.A. in Women's and Gender Studies at Lafayette College before working as an engineer in a wireless research, development, and prototyping team for 5G at Intel.
Emilie will be at The Center for Democracy and Technology as a Fellow.
Kyooeun Jang
University of Southern California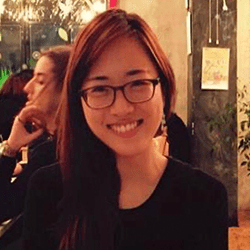 University of CaliforniaKyooeun is a doctoral student at the Annenberg School for Communication and Journalism at the University of Southern California. She is interested in the intersection of platform governance and standardization, specifically in how big tech's self-regulation mechanisms shape broader understandings of content governance. She is also interested in the emerging challenges that social XR platforms face in terms of moderating embodied interpersonal interactions. Kyooeun received her MA from Harvard University's Regional Studies East Asia program and has worked in the tech industry specializing in trust and safety operations and research.
Kyooeun will be a Fellow at the Brookings Institution.