Executive Program in Digital Media for Social Impact
Frequently Asked Questions
How will my application be evaluated?
We want to hear your story, your hopes and dreams and what you want to accomplish in your career. We are looking to learn about you, what you're passionate about, what you want to learn and why. Whether you're looking to grow your current organization, want to transition into more social impact work, or you're trying to have the time and space to reboot and consider what's next, be honest about where you're at in your journey. We hope that the application process might serve as a reflective practice for you to step back and articulate what you're hoping to accomplish. If you have questions about admissions, please don't hesitate to reach out at admissions@csis.upenn.edu so we can discuss.
Do you offer financial aid or scholarships?
Our program is designed to have the lowest tuition possible without losing the integrity of the educational experience. We're proud to say it's one of the most affordable executive programs available today. Since the program tuition is already being offered at a discounted rate relative to other similar programs, we're unfortunately unable to offer any scholarships. We can, however, offer students who would like additional time to complete their payment the option of an interest-free payment plan. Previous students have gotten partial or full tuition covered from their employers as well. If you have questions about finances, please don't hesitate to reach out at admissions@csis.upenn.edu so we can discuss.
What is the refund policy?
The $950 tuition deposit is not refundable. Refunds on balances paid will be made according to the policy of the School of Social Policy and Practice OpenSP2 refund policy.
OpenSP2 supports requests for refunds to non-credit programs in writing only to the appropriate program leadership, please see the specific program page for contact information. On-demand programs require that refunds requests occur within 14 days of the start of the program, and only if less than 25% of course materials have been engaged with (based on course data analytics). Programs which run on a calendar basis with live class sessions require cancellation and refund requests to be made at least 14 days in advance of the course start date. OpenSP2 may provide a transfer option to individuals who cancel beyond the limits of this policy, that decision is at the discretion of the program leader. Individual programs and programs from affiliated PennSP2 centers each set final program cancellation and refund policies; participants should check program policies before registration and payment. OpenSP2 is a division of the University of Pennsylvania's School of Social Policy & Practice which receives the right to change, alter, adjust this policy. OpenSP2 reserves the right to cancel any program for low enrollment or other extenuating circumstances at any time, before the start of the program. If SP2 cancels a program, all participants will receive a full refund. Please also note programs offered on 3rd party platforms (edX or Coursera) are subject to the policies of that platform.
Official communications may be sent to admissions@csis.upenn.edu.
Are there any prerequisites to apply?
No, there are no educational prerequisites to apply for this program — we are looking for leaders across all industries with a variety of perspectives. If you have questions about whether this program is a good fit for you, please don't hesitate to reach out at admissions@csis.upenn.edu.
How much time can I expect the program to take?
We anticipate that most students will spend about 4-6 hours per week on the program, but of course this may vary. The program is a part-time program that is designed to be taken alongside, and complementary to, your existing professional responsibilities.
What opportunities do you offer alumni?
Alumni are a critical part of the CSIS and Annenberg School families, and they receive lifelong access to both communities. CSIS hosts a private Facebook group dedicated to conversations online for anyone in our network to share resources and support one another. Most years, we also host a free summit in Philadelphia to bring our diverse community together and offer one another a deep sense of community and connection.
Can I talk to someone to learn more?
Yes! Please join us for an info sessions on Zoom. We have one coming up on September 27, 2021 from 4:00-5:00pm US ET - click on the date to register - or view a recording of our September 1 info session.
On-Campus Convening and COVID
How will we handle COVID safety during the March convening at the University of Pennsylvania?
We will be following all guidelines in place for visitors on campus at the University of Pennsylvania, as well as guidelines set forth by the Philadelphia Department of Public Health.
I understand that the March convening is a required component of the certificate program. What happens if I'm unable to travel to Philadelphia due to health or visa concerns?
For anyone who can't join us in person, we will offer a virtual alternative that will allow you to fully participate in both learning and cohort-building activities. It will take place synchronously with the on-campus convening. You will be able to watch all instruction via live-stream, and will interact with your other classmates learning online. There will be an online alternative for all social activities.
The online option will be fully staffed and will feature a separate instructional team that will ensure that you are able to hear the instruction, and facilitate your active participation in all interactive activities. Please set aside the same time and attention as you would if you were learning in person. This will not be an online session during which time you can sit on your couch, do other professional work, take side calls, or fold laundry.
When you enroll in the program, we will ask you to indicate whether you intend to participate in March in person or online.
Depending on your time zone, it might be challenging for you to attend our live sessions synchronously. Online participants will have an opportunity to view recorded sessions and submit their work by the end of the week. Depending on the location of our incoming class, and their ability to attend the convening in person, we may organize social activities at a different time when online participants are more able to attend.
To facilitate this opportunity, we will also ask you when you enroll the time zone from which you will learn.  Learning sessions will remain synchronous with the in-person event.
If I intend to join the convening online, will I receive a fee reduction?
No. The online option will feature the same curriculum and activities as the on-campus option. You will have instructors focused specifically on ensuring that you are learning, engaged, and interacting with your classmates.
How does the relationship between the Executive Program and Master's Program in Nonprofit Leadership work?
Students who complete the program will be eligible to complete Penn's Master's Program in Nonprofit Leadership in an accelerated format. The DMSI certificate will count toward three CUs in the master's program. Students who go on to pursue the master's after DMSI will only need to complete seven CUs to earn their degree. You can read more about what the accelerated format entails here. 
Keep Pace with Changes
"Being able to execute digital media is critical for social change organizations to be able to get the word out, to reach their beneficiaries, to make sure their partners know about them. It's also a space that's changing incredibly quickly and that can be really hard to keep pace with. By learning the foundations of digital media and social change, leaders will be set up to keep pace with those changes and implement all things digital within their organizations." —Julia Blumenstyk, Product Marketing Manager, The Commons Foundation; CSIS Executive Program Alum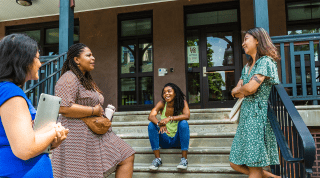 Still Have Questions?
We would love to hear from you! If you have any additional questions, please reach out to us!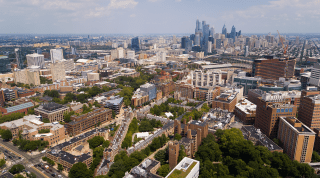 Apply Now!
Join our inaugural class of DMSI scholars. We are excited to dive into these topics together!