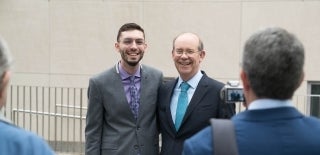 Communication and Public Service (ComPS) Program
Communication and Public Service (ComPS) Program
A focus on the ways communication is used in public service offers ComPS students the ability to combine individual research opportunities with hands-on experience in the public arena.
For students in the Communication and Public Service major, classes, seminars, internships, field experiences and individual research projects provide opportunities to meet and learn from current and former officeholders, journalists, and public servants who have been leaders in government and civil society.
ComPS-Specific Requirements
The program is closely matched to the requirements of the undergraduate Communication major. ComPS students must complete the following 14 courses:
How and When to Apply
Students interested in applying to the ComPS program are encouraged to consult with David Eisenhower, Director of the Institute for Public Service, as early as possible to match the requirements for the major and the ComPS program with their own individual goals.
Annenberg In Public Service Program
Comm majors interested doing a public service internship this summer have an opportunity to apply to Annenberg in Public Service (AIPS), which provides financial support for students doing un- or under-paid Comm related public service internships.