The Center for Advanced Research in Global Communication Welcomes Three New Postdoctoral Fellows
Eszter Zimanyi, Ignatius Suglo, and Yuval Katz will join the Annenberg School in the fall.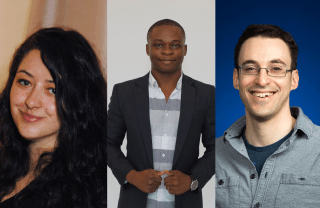 The Center for Advanced Research in Global Communication (CARGC) at the Annenberg School for Communication at the University of Pennsylvania is proud to announce three new CARGC postdoctoral fellows for 2022-2024: Eszter Zimanyi, Ignatius Suglo, and Yuval Katz. Yuval Katz will be jointly appointed by CARGC and the Center on Digital Culture and Society (CDCS) at Annenberg.
The three fellows will join current CARGC postdoctoral fellows: Ali Karimi, Ayesha Omer, and Woori Han, who is a joint fellow at CARGC and CDCS. The new cohort of postdocs will also work with a group of CARGC doctoral and undergraduate fellows in producing translocal research grounded in theory and based on primary sources.
Zimanyi, Suglo, and Katz emerged from an extremely competitive international pool of candidates. Their selection was determined by an independent committee following rigorous criteria that include overall academic excellence, research productivity, diversity, and fit with CARGC's mission.
"We could not have asked for a better group of global communication scholars to join CARGC at this crucial juncture," said Aswin Punathambekar, newly appointed CARGC Director and Professor of Communication at the Annenberg School. "Zimanyi, Suglo, and Katz focus on a number of challenges in which media and communication play a central role - political and cultural polarization, border regimes and the politics of migration, state power and cultural production, and so on. They are poised to open up new frontiers in the study of media and society across multiple regional contexts, and I cannot wait to welcome them to CARGC and Annenberg!"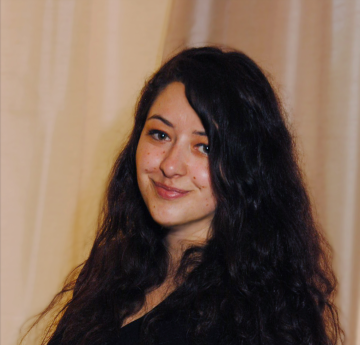 Eszter Zimanyi
Eszter Zimanyi currently holds a postdoctoral fellowship in Cinema and Media Studies at the University of Southern California, where she received her Ph.D. in August of 2021. Her work is published or forthcoming in the Journal of Cinema and Media Studies (JCMS), Feminist Media Studies, Transnational Cinemas, Visual Anthropology, Media Fields Journal, Intermedialities, and Docalogue, among others. Zimanyi's research lies at the intersections of migration and media studies, with a specific focus on nonfiction media as technological, aesthetic, and political objects that (re)shape global processes of migration and bordering as they circulate. Her published work includes essays on refugee selfies, humanitarian immersive media, migrant temporalities, and the visual production of crisis in media about forced migration.
At CARGC, Zimanyi will be working on her first book manuscript, tentatively titled Unsettled Media: Documenting Refugees and Europe's Shifting Borders Along the Balkan Route. This project examines contemporary nonfiction media produced between 2015 – 2020 during Europe's so-called "migrant crisis." It demonstrates how the diverse media practices of multiple migrant/refugee communities, (supra)state institutions, artists, and activists collectively unsettle post-Cold War Europe's material and conceptual borders. The book centers on the Balkan Route, one of the primary land routes for unauthorized migrants/refugees traveling toward Western Europe in recent years. Zimanyi's central claim is that the Balkan Route mediates between the Cold War and the War on Terror as migrants and refugees from the Global South (most of whom come from Syria, Iraq, and Afghanistan) move across the former "Second World." While the term "Second World" has been relegated to history books, this geopolitical and racialized construct of the Cold War continues to shape how the European Union—and non-European migrants/refugees—imagine Eastern European nations as un-European, inflecting national and regional responses to unauthorized migration as well as migrants/refugees' decisions about where and how to seek asylum. As a hyper-visualized space of transit and containment, the Balkan Route mediates competing claims over what, where, and who 'Europe' is and reveals intersecting histories of colonization, war, and displacement that have rarely been thought together.
Ignatius Suglo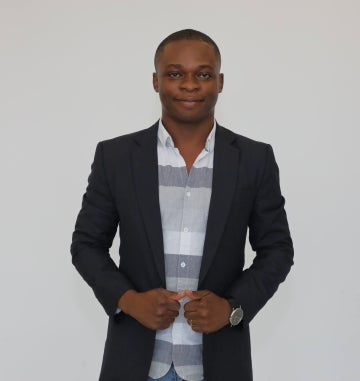 Ignatius Suglo is completing his Ph.D. in China studies at the University of Hong Kong, with a secondary specialization in African studies. His research interests include transregional media histories with specific focus on Africa–China relations, knowledge production and circulation, digital diasporas, and Africa–China relations during the Cold War. His work on popular, visual, and audiovisual media situated in historical and contemporary transregional Africa-China encounters has been published in the Journal of Asian and African Studies and Verge: Studies in Global Asias.
During his postdoctoral fellowship, Suglo will work on a book manuscript on how knowledge about Africa is produced and circulated in Chinese media from the nineteenth to the twenty-first century. This work analyzes popular periodicals, propaganda posters, music iconography, and documentary films. It explores meaning-making processes of Africa in Chinese media and presents a study of dialogues and negotiations between sameness and difference, self and other, fractures and continuities, and past and present and their implications for contemporary Africa-China engagements. Suglo's next project will examine the performativity of blackness in China. Taking an archival and ethnographic approach, this project will interrogate how representations in popular media impact and shape experiences of Africans in China and the limits of agency. This project has received the Association for Asian Studies' China and Inner Asia Council's (CIAC) grant for preliminary fieldwork.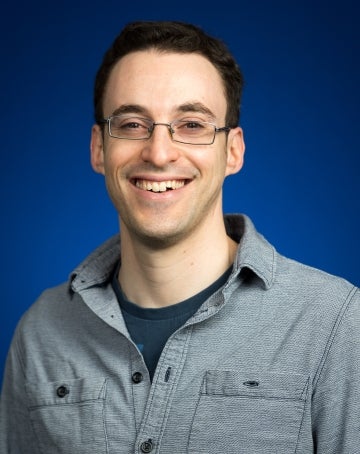 Yuval Katz
Yuval Katz is finishing his Ph.D. in Communication and Media at the University of Michigan. He is originally from Israel/Palestine and completed his B.A. and M.A. at the Hebrew University of Jerusalem. His work was published in Social Media and Society, Critical Studies in Media Communication, Information, Communication and Society, and Journalism Studies.
Katz's research focuses on everyday peace and its manifestation in, by, and through media. Instead of thinking about peace strictly as a top-down process resulting from diplomatic negotiations conducted by politicians, his work looks at peace happening among ordinary people in their everyday interactions. He studies Israel/Palestine, where the theoretical and practical interventions offered by everyday peace are crucial because diplomatic negotiations between Israeli and Palestinian leaderships have reached a complete impasse over the last two decades. Instead, popular television shows capture the tensions between Jews and Palestinians in their mundane interactions while demonstrating a deep yearning for connection. Innovative digital initiatives based on cross-cultural storytelling become a fertile ground for building solidarity between Jews and Palestinians, often described as impossible in mainstream political discourse. Katz's work looks at media texts, alongside collaborations between Jews and Palestinians in media productions, which he argues are also a form of peacemaking.