Comm Major Jean Chapiro Named Penn SAS Dean's Scholar
She has conducted independent research and created original films.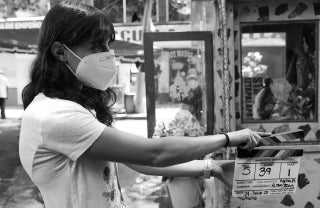 Penn senior Jean Chapiro C'21, a Communication major at the Annenberg School, has been named a 2021 Dean's Scholar.
Each spring, nine undergraduate students are recognized by the Dean of the School of Arts and Sciences, Steven J. Fluharty. Students are presented this honor in accordance with their exceptional academic performance and intellectual promise.
"A wonderfully creative and original thinker, Jean is richly deserving of recognition as a Dean's Scholar," says Litty Paxton,  Annenberg Associate Dean for Undergraduate Studies. "While pursuing an ambitious academic course of study, she has creatively and enthusiastically figured out how to productively combine theory and practice, writing and film, quantitative and qualitative methodologies. Jean is a truly multi-talented and multi-modal young scholar."
When Paxton says that Chapiro is a multi-talented scholar, she means it. Alongside her major in Communication, in which she has a concentration in Marketing and Messages, Chapiro is pursuing two other majors in Visual Studies and Cinema Studies. For her Communication major senior thesis project, Chapiro — advised by Annenberg Dean John L. Jackson, Jr. — is making a non-fiction film that explores eating disorders, specifically anorexia, through the lens of hunger. The film, entitled Hambre: Hungry for Life, offers a lens of acceptance and analysis through which viewers will come to understand that certain forms of hunger are natural, powerful, and extend far beyond craving food.
As part of her undergraduate coursework, Chapiro has conducted original research in various classes, including COMM 318: Stories From Data, COMM 310: The Communication Research Experience, and graduate course ANTH 583: Ethnographic Filmmaking. In COMM 310, taught by Professor Emily Falk, Chapiro researched and analyzed videos as a source of information about politics. She studied whether short informational videos about the 2019 local elections in Philadelphia increased viewer knowledge and increased student voting turnouts.
"Jean brought a unique combination of artistic skills and interests in learning about quantitative methods to our class, and she went above and beyond," says Falk, Professor of Communication, Psychology, and Marketing at Annenberg.
Chapiro, originally from Mexico, has achieved the honor of Dean's Scholar and academic success while being far from home. But despite the distance, she keeps home in mind in her pursuits.
"What has motivated me at Penn is the idea of one day being able to go back to my home country of Mexico and start my own production company," Chapiro says. "I will be able to share all that I have learned and inspire change through entertainment."
Her Comm major has also transformed her outlook on media and the impact it has on the lives of others.
"As a Comm major, I have gained a multifaceted theoretical and historical understanding of how the media influences different groups of individuals," Chapiro says. "This understanding has enabled me to realize that far from purely entertaining, television and film can be used as vehicles and tools of empowerment."
Outside of the classroom, Chapiro uses the skills she has acquired to pursue her passions and inspire change. She volunteers her time to teach both Spanish and Filmmaking in local elementary and high schools. In addition, she has done film, writing, and photographic work for Action News and Sayre High School in West Philly as well as for on-campus organizations such as Penn Appetite, the Daily Pennsylvanian,T-art Magazine, Penn Running Club, and Penn Speaks for Autism. She is also a CAMRA Mellon Undergraduate Fellow, a three-year fellowship where undergraduates assist a faculty mentor with a media-based project, and ultimately complete their own.
Chapiro has created a documentary film about her experience during the pandemic, using the Japanese tradition of the Green Tea Ceremony as a way to express her own narrative and the greater implications of pandemic life. She created a tea ceremony in her home in Mexico City, seeing the ceremony's calm nature as something that is absolutely necessary during a global health crisis.
"Since I was very little I have had a passion for storytelling," says Chapiro, an aspiring filmmaker. "But it was only very recently that I realized that becoming a film and television producer/director can enable me to serve as a leader." 
Chapiro is the fourth Communication major to be named a Dean's Scholar since 2000. Past winners include Fahad Ahmed (C'20), Nicholas Joyner (C'19), and Kathryn Llewellyn (C'12).