Comm Major Fahad Ahmed Named Penn SAS Dean's Scholar
He has co-authored publications, founded start-ups, and mentored high school students.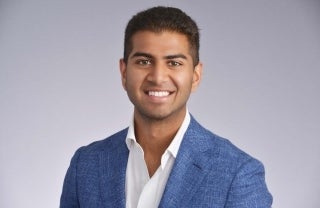 Penn senior Fahad Ahmed C'20, a Communication major at the Annenberg School, has been named a 2020 Dean's Scholar.
Each spring, the Dean of the School of Arts and Sciences, Steven J. Fluharty, recognizes nine undergraduate students for their outstanding academic achievements. Students are nominated by faculty from among those with a grade point average (GPA) of 3.7 or higher. Ahmed and this year's other winners will be recognized at the Dean's Forum on March 19.
"I am extremely grateful and honored to be named a Dean's Scholar this year," Ahmed says. "Above all, this award represents all the support I have received from Penn's faculty, staff, and students."
A team of faculty and staff from Annenberg's Undergraduate Program nominated Ahmed for the honor, with strong support from Dean John L. Jackson, Jr.
"We are delighted that Fahad has received this honor," says Litty Paxton, Associate Dean for Undergraduate Studies at the Annenberg School. "What stood out in all his faculty recommendations was the remarkable way in which he skillfully engages both quantitative and qualitative research methods in the pursuit of improved health outcomes."
Ahmed's academic achievements are impressive. He is a Chemistry minor in addition to majoring in Communication with a concentration in Health Communication, and he jointly holds the highest GPA in the Communication major. He has co-authored peer-reviewed publications and participated in academic conferences, completed internships and founded start-ups, and mentored high school students.
At Annenberg, Ahmed has developed his research skills, employing a variety of methods in his coursework. In Professor Damon Centola's class, Ahmed used communication network science to propose a new way of understanding glioblastoma, and in Professor Emily Falk's class, he worked with a team testing interventions intended to increase voter turnout. "Fahad is a superstar," says Falk.
Elsewhere on campus, Ahmed is a member of the Penn Glioma Outcomes Project research team. In 2018, he received a first place poster award from the American Association of Neurological Surgeons for his work. He has also received honors from Penn's Center for Undergraduate Research and Fellowships (CURF): a research grant recipient, a participant in the University Scholars Program, and a Research Peer Advisor.
Outside the classroom, Ahmed is deeply committed to community service. In addition to building houses with Habit for Humanity and serving on the selection committee for the Wharton Innovation Fund, he created two start-ups: one aimed at helping high school students with homework and another focused on helping them apply to Ivy League universities.
Ahmed has also participated in internships that taught him how to translate research to real world policy and practice. He has shadowed physicians and worked in medical practices, and he interned at a health insurance company, where he conducted a study investigating the marketing team's strategy. Susan Haas, Annenberg's Internship Coordinator, praises Ahmed's outstanding ethnographic skills: "Fahad conducted his interviews like a skilled diplomat, eliciting data both rich and frank."
Interested in both science and clinical care and innovation of health and health communication, Ahmed aims to be an outstanding physician-scientist and communication-changemaker.
"With each class and activity I took on, especially at Annenberg, I always felt as though I had mentors around me that were willing to put in the effort to bring out the best in me, and for each of them I am very thankful," says Ahmed. "I am confident that my background as a health communication student at Annenberg will play a role in my future endeavors in the field of healthcare."
Ahmed is the third Communication major to be named a Dean's Scholar since 2000. Past winners include Nicholas Joyner (C'19) and Kathryn Llewellyn (C'12).