DMSI Meeting Develops Big Ideas into Real-World Social Impact
The inaugural cohort of Annenberg and SP2's Executive Program in Digital Media for Social Impact reflects on how digital tools and platforms can help drive social change.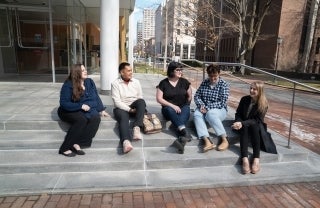 At the first on-campus convening of Penn's Executive Program in Digital Media for Social Impact (DMSI), Professor Guobin Yang began his introduction by sharing a video that was instantly recognizable to everyone in the room: self-shot footage of Ukrainian President Volodymyr Zelenskyy addressing viewers from the streets of Kyiv.
"This is the kind of power that digital media is producing on an everyday basis," said Yang, the Grace Lee Boggs Professor of Communication and Sociology at the Annenberg School and a faculty director of DMSI.
More than ever, digital media technologies play a vital role in driving social change, enabling nonprofit professionals, activists, and other changemakers to amplify their messages.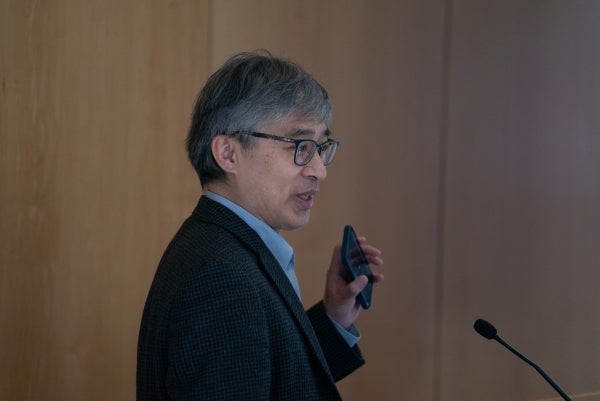 A partnership between Annenberg's Center on Digital Culture and Society (CDCS), where Yang serves as Director, and SP2's Center for Social Impact Strategy (CSIS), DMSI teaches social impact leaders how to advance their digital media strategies and develop mission-aligned campaigns. The curriculum emphasizes how, as in Yang's example, the tools and platforms we use every day can quickly spread powerful messages of social change to wider audiences.
Held at the Annenberg Public Policy Center on March 2-4, 2022, the convening enabled students in the online, asynchronous executive education program to network and learn together. 
Thirteen of the group's 19 members sat at long tables in the Annenberg Public Policy Center's two-story high Agora, while the rest of the class attended on Zoom, allowing the entire cohort to participate together in learning and team-building activities.
The agenda included sessions on design thinking led by Sarah Rottenberg, Executive Director of Integrated Product Design and Adjunct Assistant Professor in the Weitzman School of Design; an inclusive design workshop taught by cognitive bias expert David Dylan Thomas; a discussion between Moly de Aguiar and Nuala Cabral of the Independence Public Media Foundation; and a keynote by Decolonizing Design founder Aida Mariam Davis.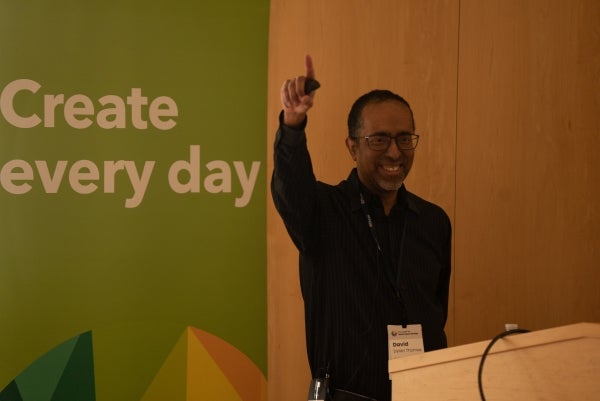 Along the way, DMSI faculty including Ariel Schwartz, CSIS Managing Director, and Rosemary Clark-Parsons, CSIS Program Manager, facilitated participatory exercises and brainstorming activities that got students moving around the room, sharing with each other, and generating new ideas through sharing personal and professional goals, discussing hot topics such as cognitive biases and ethical frameworks, and turning provocative prompts such as, "Should billionaires exist?" into design questions.
The cohort hailed from states as far apart as California and Hawaii, representing roles ranging from journalists to educators, and organizations ranging from self-started nonprofits to multinational media conglomerates. But in reflecting on the program and convening, unifying themes emerged: community-building and growth, immediate real-world applications of their learnings, and feeling empowered to turn ideas into impact.
"I loved the exercise where we worked on not just our visions, but how to make them happen. I'm leaving here with a real commitment to action."
Julia Nowińska, a DMSI student and freelance journalist, described how the program helped reorient her "difficult relationship" to social media through a focus on raising awareness of social issues and rallying people around shared causes, instead of selling products.
Nowińska also appreciated the convening's emphasis on turning lofty ideas into executable plans.
"I probably have more ideas than are plausible or even possible to execute," she said with a laugh. "I loved the exercise where we worked on not just our visions, but how to make them happen. I'm leaving here with a real commitment to action."
Fellow student Amanda Labrador, the director of communications at Beyond Literacy, a nonprofit that provides free education and workforce development opportunities for low literacy adults, echoed Nowińska's sentiments.
"I have a lot of vision, but I also have a lot of responsibility in a day," Labrador said. "When I think about my goals, I can get overwhelmed and not know where to start or what to prioritize. The frameworks we've been working with, where we identify who we're talking to, what we need to say, and what medium we use to say it, have been so helpful."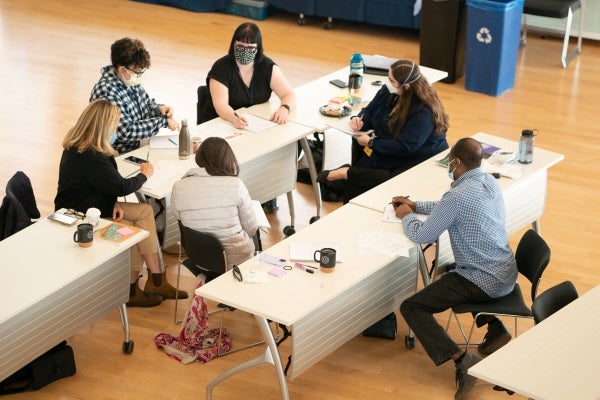 "At the convening, there has been a lot of talk around theories, idea-building, and community. It goes beyond the practical tools," she added. "It's a bigger conversation, which has been helpful in looking at things in a different way."
Another student, Cynthia Lloyd, founded Science and Citizens Organized for Purpose and Exploration (SCOPE), a nonprofit that promotes scientific literacy and appreciation, in 2007. In recent years, she felt burned out by rising anti-science sentiments in the U.S. and took a step back from her organization.
A graduate of the CSIS Executive Program in Social Impact Strategy, Lloyd felt re-energized after learning about the DMSI program at an alumni event.
"I will leave here with new tools, but also a cohort to practice with and continue learning from, especially in terms of being mindful and thoughtful in what we're doing to serve people, and who we should be serving and how," Lloyd said. "My goal is relaunching my organization to be much more digitally focused."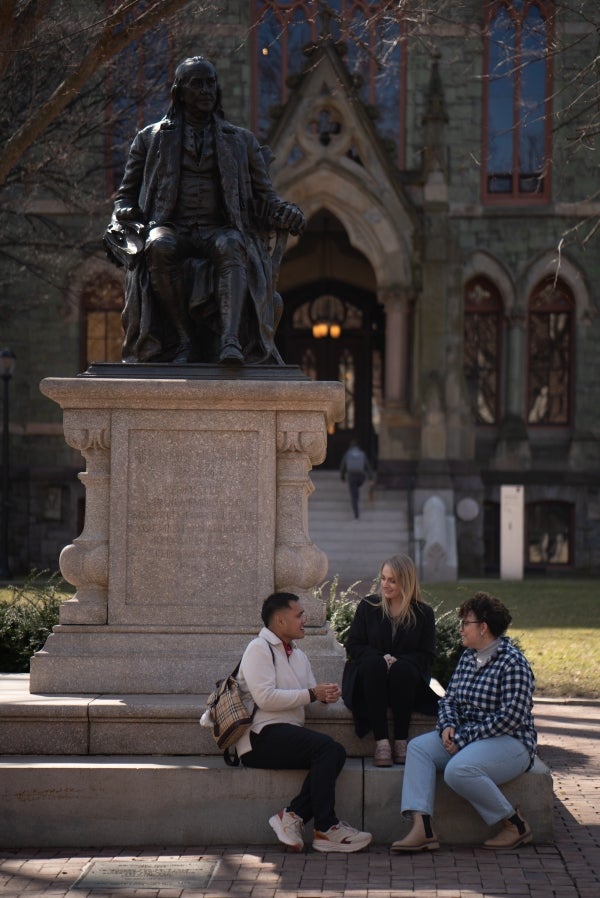 Jennifer Ingham, who launched a social impact consultancy, Wordspark Digital Consulting, "in complete isolation" during the spring of 2020, felt a similar gratitude for growing her network of fellow changemakers.
"We can draw on each other when we need words of support or to share ideas," she said. "Having a group of 20+ people cheering you on is an amazing feeling."
For Michael Ticzon, the program offered fresh insights on design biases, digital practices and platforms, vision-mapping, and more. He plans to share resources with his colleagues on Comcast's impact and inclusion team.
"Other programs are centered on just marketing or comms strategies, and I really appreciated how DMSI laid that foundation, but also applied it in the social impact space," said Ticzon, whose role as a Senior Coordinator focuses on engaging employees in volunteerism and community service. "I hope to introduce all of this to my team to continue these conversations."
Armed with new tools, knowledge, and connections, the inaugural DMSI cohort is well-prepared to go back out into the world and create meaningful social impact – another sentiment that echoed consistently across participants' reflections.
"We're the first group of people in the country with access to this social impact learning opportunity, which is incredible," said Ingham. "This convening brought us together with the intention to collaborate and understand how we can show up fully as changemakers, and we're taking so many learnings back to the communities where we live and work."