Doctoral Students Take Part in Community-Engaged Research Mentorship Program
This summer, doctoral students Danielle Clark and Darin Johnson gained hands-on research experience working in the Philadelphia community.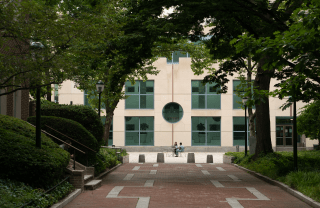 This summer, Annenberg doctoral students Danielle Clark and Darin Johnson were two of the four Penn graduate students chosen to participate in the Penn Graduate Community-Engaged Research Mentorship (PGCERM) program, facilitated by the University of Pennsylvania's Netter Center.
This 10-week summer program offers an opportunity for graduate students interested in community-engaged research — including those who may not know how to begin — to work on smaller scale, short-term projects guided by faculty mentors. 
Clark and Johnson worked with Annenberg faculty members Andy Tan and David Lydon-Staley respectively. 
Participating students receive a stipend of $5,400 and are part of a learning community with faculty and other students interested in and doing this work across different disciplines. 
Darin Johnson 
Faculty mentor: David Lydon-Staley, Ph.D., Assistant Professor of Communication and Director of the Addiction, Health, & Adolescence (AHA!) Lab
A member of the Communication Neuroscience Lab who has studied the neural underpinnings of code switching, Darin Johnson's PGCERM experience allowed him to get a crash course in community-engaged research, working with young students. 
At the start of the summer, the Netter Center connected him with fellow Annenberg doctoral student Ava Kikut, whose engagement with Youth Participatory Action Research program (YPAR) facilitates partnerships between young Philadelphians and academic researchers.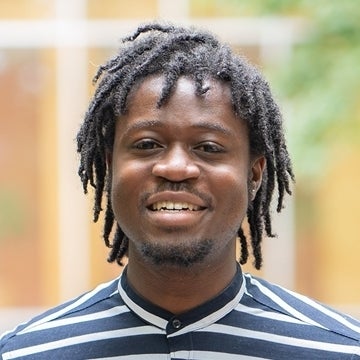 Each week, Johnson would assist in teaching student interns from West Philadelphia High School about ongoing research at Annenberg, and help them participate in studies that interested them. A highlight for him was giving a presentation to the students about his own research on code switching and linguistic racism.
Johnson valued having Lydon-Staley as a faculty mentor during the summer. "Working with David was a great experience," says Johnson. "We were able to have specific conversations early on about connecting with Netter and attempting to create more long-standing relationships between the AHA! Lab and community partners."
Lydon-Staley says that it was encouraging to watch Johnson go out in the field and share his research with the community. 
"Doing this kind of community-centered work requires a curiosity about the needs of communities that sometimes takes our research into unexpected places, and Darin demonstrated this curiosity in spades," says Lydon-Staley. "He has built great relationships with community stakeholders that he will build on in the coming year and I am excited for how this on-the-ground work will inform both his research trajectory and the needs of the communities with which he is engaging."
Overall, Johnson is grateful for his PGCERM experience. 
"This internship program was extremely beneficial and formative," he says. "It gave me the tools to figure out how to build connections with individuals already participating in community-engaged research and the chance to directly build relationships with community members."
Danielle Clark
Faculty Mentor: Andy Tan, Ph.D., M.P.H., M.B.A., M.B.B.S., Associate Professor of Communication and Director of the Health Communication & Equity Lab
Third-year Ph.D. student Danielle Clark spent the summer interviewing staff members at community-based organizations across Philadelphia that are partnering with Philly CEAL to better understand the challenges of trying to communicate information about COVID-19 vaccines for children to parents. 
Under 40% of children ages 5-11 in Philadelphia have received at least one dose of the COVID-19 vaccine, and Clark hopes working directly with community-based organizations will help improve these rates.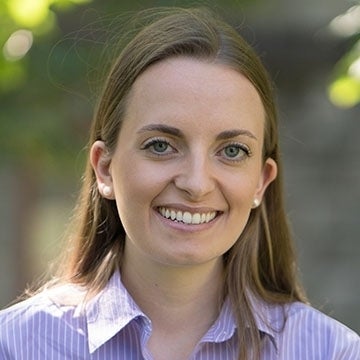 "I was first introduced to community-engaged research in two of Andy's courses and was very excited and grateful to have the opportunity to engage in research with community-based organizations in Philadelphia this summer," Clark says. "While as researchers we have expertise in certain research methods, the community-based organizations we've interviewed have expertise in understanding the lived experiences, strengths, and needs of individuals in the communities they serve."
These 10-weeks gave Clark and Tan time to develop relationships with community leaders and start to brainstorm strategies that could assist community-based organizations in encouraging parents to vaccinate their children against COVID-19.
Tan is impressed with Clark's work and is excited to analyze their project's results together. 
"Working with Danielle on this project has been a great experience," he says. "She is able to build rapport with the interviewees easily and ensure that they are comfortable with sharing their challenges and lessons learnt about promoting pediatric COVID-19 vaccinations. I look forward to working with her and we will be analyzing the transcripts using a codebook that she is developing to summarize the findings."