Fashina Aladé (C'11) to Speak at Annenberg's 2021 Undergraduate Graduation
A scholar of children and media, Aladé is an Assistant Professor at Michigan State University.
When Fashina Aladé (C'11) began her freshman year at Penn, she already knew she wanted to major in Communication. She had attended a communications high school in New Jersey and found the field fascinating. Initially, she was considering a career in journalism, but she quickly discovered an interest in media psychology and theory, and she began to pursue research instead.
During her senior year, she worked as a research assistant for Amy Jordan (Ph.D. '90), a longtime Annenberg researcher and lecturer, as well as a former Associate Dean for Undergraduate Studies, who is currently a Professor of Communication at Rutgers University. Aladé also completed a senior honors thesis under the supervision of Jessica Taylor Piotrowski (Ph.D. '10), currently an Associate Professor of Communication at the University of Amsterdam. Both scholars of children and media, Jordan and Piotrowski nurtured Aladé's interest in that subfield and encouraged her to go to graduate school.
Aladé followed that advice, and the rest, as they say, is history.
On May 16, Aladé — now an Assistant Professor of Advertising and Public Relations in the College of Communication Arts and Sciences at Michigan State University — will deliver the alumni speech for Annenberg's 2021 Communication Major Graduation Ceremony, to be held virtually on YouTube. She plans to speak about her undergraduate experiences and how her time at Penn shaped her path forward.
"I'm really thrilled to be speaking at graduation," Aladé says. "My time at Penn was so influential and rewarding, and I'm looking forward to sharing that with this year's graduates. I only wish I could have the opportunity to connect with them in person!"
At Michigan State, Aladé's research lies at the intersection of media effects, developmental psychology, and early childhood education, with a focus on young children's comprehension of and learning from educational media. While much research focuses on the negative effects of various types of media on children and adolescents, Aladé prefers an approach aimed at discovering the positives. Children engaging with technology is a fact of life, she says, so shouldn't we try to make those interactions as positive as possible?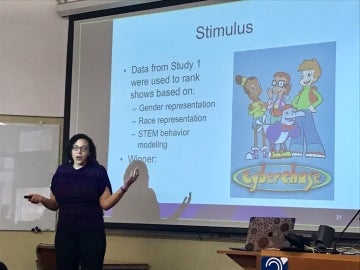 In one recent study, Aladé tested whether preschoolers learn more from interactive technology, like playing a game on a tablet, or from "passive" technology, like watching an educational television program. Despite conventional wisdom that interactivity is always better for children, she found that it actually wasn't that simple. In her experiment, the children who played the tablet games performed better on tasks that were nearly identical to the game they'd played, but the children who watched the TV show performed better on more abstract tasks that required them to apply concepts they'd learned.
"Whenever I talk to parents or educators, I always stress that children can and do learn from watching recorded content," says Aladé, "which has been especially prescient over the last year, with the move to virtual schooling for many kids."
Aladé is also investigating gender and race representation in children's media. In addition to collecting data on the race and gender of the characters on children's television shows to determine if there is equal representation, she also aims to understand how children perceive representations of diversity and what they're learning from them. For example, some children's shows use human-like characters, but not typical human skin tones. If a child watches a show with a green main character who has a blue parent and a yellow parent, do they understand that this is a representation of a multiracial family?
"Many children's shows are making a real effort to portray diversity and show kids that anyone can do anything," Aladé says, "but it's really difficult for young kids to pick up on subtle messages in television programs. They may not pick up on the idea that the blue-yellow-green family doing science on their favorite show means that people of different races do science in real life."
For Aladé, the end goal is to discover concrete principles and ideas that can be used to make education and educational programming more effective for children. She calls herself a community-engaged scholar, and she actively partners with community organizations to better design experiments and to get her findings to the people who can use them.
"If I didn't think that the work I'm doing was going to have a real impact on kids and families and educators, I don't think I'd be doing it."
Fashina Aladé will speak at the virtual Communication Major Graduation Ceremony on May 16, 2021. For the most updated information, please view our graduation information page.