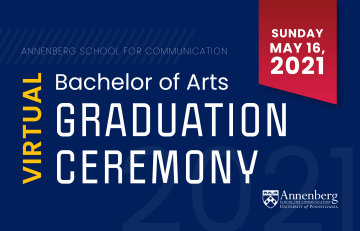 2021 Communication Major Graduation Ceremony
Audience
Open to the Public
This year's ceremony will be held virtually.
The event has ended, but you can view the speech by alumni speaker Fashina Aladé on YouTube.
The Annenberg School for Communication is pleased to invite graduating seniors, along with their friends and family, to its Communication Major Virtual Graduation Ceremony on May 16, 2021.
At this ceremony, which takes place the day prior to the University Commencement, we celebrate Penn's Communication Majors with a roll call of graduates and recognition of this year's awardees. The event also includes short speeches by several undergraduates, and an address from a distinguished alumnus. This year's alumni speaker is Fashina Aladé C'11, Assistant Professor at Michigan State University.
The graduation livestream on YouTube will begin at 11am ET.
Follow along in the digital program, which includes the ceremony order, a list of graduates, and awardee recognitions.
Frequently Asked Questions
When and where is the Undergraduate Graduation Ceremony?
The Annenberg School for Communication will be hosting a virtual ceremony for our undergraduate Communication Majors on May 16, 2021 at 11am ET.
How long will the ceremony last?
Graduation typically lasts an hour.
What happens during the Undergraduate Ceremony?
Various awards will be presented to students. A distinguished alumnus will deliver an address. All students will be recognized and certificates will be mailed to graduates at a later date.
How is this ceremony different than the ceremony hosted by the College on Sunday evening or the University ceremony on Monday?
Annenberg's ceremony is an intimate event to recognize the achievements of our majors. Various graduates will make brief remarks. All student participants will have their name called.
When will graduates be receiving their diplomas?
Penn's normal policy for distributing diplomas is as follows: The diplomas of May graduates are mailed in July, the diplomas of August graduates are mailed in October, and the diplomas of December graduates are mailed in February.