Forging Scholarship and Identity Through Family Memories, Afrofuturism, and 1,600 Vinyl Records
As part of his ongoing exploration into multimodal scholarship, doctoral student Antoine Haywood pairs his newly published autoethnographic essay with a curated soundtrack.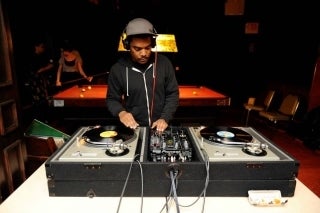 Many of us can relate to the experience of having certain sensory details — perhaps the waft of mom's famous pecan pie baking in the oven, or our ears registering a Mariah Carey hit that blared from car radios in high school — instantly transport us to memories of home and formative moments in our lives. As Antoine Haywood, a fourth-year Ph.D. candidate at Annenberg, writes in a new autoethnographic essay, such associations — in his case, through listening to and collecting vinyl records — can serve as potent and profound linkages to one's cultural and familial roots. 
The essay, "A Reflection on Afrofuturistic Album Covers, Funk Music, and Black American Identity Formation", appears in the latest issue of the Journal of Popular Music Studies. In the piece, Haywood reflects on his musical lineage, coming-of-age experiences, and understanding of Black American identity in the context of his family's extensive vinyl collection and his subsequent interest in continuing to build upon it with records of his own.
The initial inspirational spark for the article came about in Fall 2020, during Associate Professor Sarah J. Jackson's course, The Black Public Sphere, from Freedoms Journal to Black Lives Matter. 
"We got to a section of the class where we started to talk about Afrofuturism, and I asked if I could show my records that have all of these great Afrofuturistic images," Haywood recalls. "As I was showing the records and talking about what they mean to me and why I find them fascinating, I started reflecting on my connection to them, why I collect records, and looking at those records as a kid and how they floated my imagination." 
"With experimental ethnography, you're able to explore things that are deeply personal, but that lived experience also affords you a critical frame to look at other things in the world."
In the essay, Haywood self-identifies as a "vinyl junkie" who owns over 1,600 albums. Citing artists including Earth, Wind & Fire and Sun Ra, Haywood describes the R&B, funk, and hip-hop records he heard growing up as "portals" that tether him to his family's legacy and African diasporic ancestry. 
"As we entertained each other, popular funk music provided a unifying groove that bonded our familial community. 'Let's Groove' is a song that always takes me back to our pool parties filled with raspy smokers' laughter, juicy adult gossip, spicy hot takes, and folks singing Philip Bailey's 'all-right' falsetto part in unison," Haywood writes. "This album's cover art now teleports me to a pool party at a distant interplanetary settlement of liberated Black people. Two-stepping and fingersnapping, everyone is united by a cosmic funk groove."
In alignment with his passion for music and his interest in multimodal scholarship, Haywood collaborated with a DJ friend, T-Wheels of Funky Corners, on an Afrofuturistic playlist that serves as a companion piece to the essay. Haywood, who performs locally as a musician and DJ, created the soundtrack under his DJ moniker, Kid Charlemagne (a nod to the musical group Steely Dan).
Multimodal scholarship also ties into Haywood's broader research interest in community media. Much of his current scholarly work focuses on storytelling and the social effects of community engagement among BIPOC communities in nonprofit community media centers such as Philadelphia's own PhillyCAM, where Haywood previously served as a community engagement director.
Haywood hopes that his fellow emerging academics, as well as other generations of communication scholars, take community media centers more seriously as resources that facilitate critical experimentation and community relationship-building. He sees a linkage between multimodal scholarship and community media in terms of the sense of expansiveness and interconnectedness that both can provide for scholars and creatives. 
"Community media allows you to tell stories in ways that are unusual — meaning, not something that you see on mainstream media or something that has to ultimately drive metrics," he says. "Similarly, part of multimodal research is that there's more that can be communicated, and I can't do it with just text on a page. So how else can I express it? It could be a performance arts piece, dancing or body movement, a mural, a projection, an interactive website — all of these things can help you get at what you started on the page. It's about having the freedom of doing that experimental work."
As Haywood also points out, and as his essay demonstrates, utilizing different modes of storytelling alongside more traditional forms of scholarship can result in novel ways of connecting cultural and scholarly material with personal narratives to convey ideas in a multifaceted way.
"Sometimes, there's a lot of pressure for emerging scholars to do work that's more social scientific and not so personal, but I don't really subscribe to that," Haywood emphasizes. "With experimental ethnography, you're able to explore things that are deeply personal, but that lived experience also affords you a critical frame to look at other things in the world. I can't overstate what it means to be able to tell this story about my identity and my family's legacy as my first sole author piece."