Juan Llamas-Rodriguez Named Associate Director of CARGC
Llamas-Rodriguez will help develop one of the center's core research themes, "Mobile Borders: Media, Migration & Diasporas."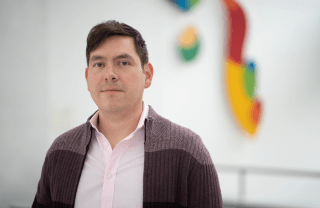 The Center for Advanced Research in Global Communication (CARGC) at the Annenberg School for Communication at the University of Pennsylvania has named Annenberg Assistant Professor Juan Llamas-Rodriguez as its new associate director.
Research at CARGC revolves around four key themes: "Mobile Borders: Media, Migration & Diasporas;" "Critical Currents: Media Environments and the Climate Crisis;" "Re-coding the popular: Media Industries and Cultural Politics;" and "Turning Points in Global Media History."
Llamas-Rodriguez's research mobilizes media and communication theories to critically analyze borders, migration, and related social dynamics on a global scale. At CARGC, he will lead the development of CARGC's research theme, "Mobile Borders: Media, Migration & Diasporas."
CARGC staff spoke to Llamas-Rodriguez about his new appointment and the future he envisions for the center:
When and how did you first become involved with CARGC?
My first visit to Annenberg was actually for a CARGC symposium. In spring 2018, at the "Decoloniality and Popular Culture" symposium, I presented an early draft of what would become a chapter in my book Border Tunnels. The event was a fantastic and energizing experience where I met several scholars I am still regularly in conversation with. I have been a big fan of CARGC ever since.
What does CARGC mean to you as a space?
CARGC represents several things for me. It is first and foremost an intellectual hub for thinking rigorously and generously about the implications of media and communication technologies for public understandings of global issues. It is also a deeply collaborative space where senior and junior faculty interact with pre- and postdoctoral scholars on a variety of projects and initiatives. This is a crucial part of what makes CARGC special: for those of us in the critical/cultural side of communication studies, our research tends to require a lot of independent work, so it is always a welcome opportunity to have the time to develop ideas and projects with colleagues in a supportive environment.
What are some upcoming plans or projects at the center that you're looking forward to?
In the near future, I am looking forward to this fall's "The Long 1990s in Internet History" symposium. For the next few years, I am very excited for the multiple upcoming projects we are developing for the Mobile Borders research theme, from dissertation and book workshops to international symposia on the intersections of media, borders, and migration. Of course, my current book project on interactive narratives about migration falls squarely within this area. But the research theme also promises to be a connecting line from CARGC to other groups at UPenn, within Philadelphia, and across other academic institutions.
How do you see CARGC contributing to local and global communities within and beyond academia?
True to its name, we intend for CARGC to continue to be an international player in all sorts of research related to global media. Initiatives in this vein include hosting doctoral workshops internationally and attracting postdoctoral and visiting faculty fellows from the Global South. CARGC is also increasingly committed to being in conversation with local and regional communities outside of the academic sphere. The diversity of the Philadelphia region represents a cross-section of immigrant communities from around the world, and as CARGC continues to explore pressing issues about the impact of media and communication in global contexts, it is even more important to turn our attention to how these issues play out in our own local communities.
What media object or text are you currently excited by?
A little streaming series called "Vgly," about a group of young poor friends trying to break into the music industry in Mexico City. It's a fantastic show with great performances, a vibrant use of its urban setting, and a catchy soundtrack full of trap, reggaeton, and corridos tumbados. I saw it this summer and I loved it but haven't found anyone else who has seen it, so this is my invitation for more people to watch it and come discuss it with me.