Kim Studies Health Misinformation on Social Media
Kim's research is supported by a $10,000 grant from the Waterhouse Family Institute at Villanova University.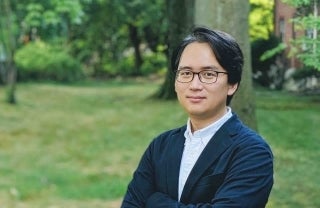 Misinformation and fake news are rampant in the current media environment. Of particular concern is misinformation regarding health issues, like vaccines, infectious diseases, or cancer. Widespread health misinformation is cause for alarm, as it has the potential to create public health crises. The recent measles outbreak is a prime example.
How can we stop the spread of heath misinformation?
Doctoral Candidate Soojong Kim aims to answer that question through a new study that investigates how polarized social networks and information flows affect the perceived credibility and virality of health misinformation. He hopes his study of misinformation on social media will pave the way for feasible and effective future interventions to curb the spread of health misinformation.
"What makes health misinformation credible? What makes it go viral?" Kim says. "Especially considering the increasing levels of social segregation and political polarization in the current social media environment, it is reasonable to assume that social factors — like the pattern of social interactions between people in different social groups — play a role in amplifying the effects of misinformation."
Kim's study is supported by a $10,000 grant — the largest amount given this year — from the Waterhouse Family Institute (WFI) at Villanova University. Established by Lawrence Waterhouse Jr., WFI was founded to highlight the centrality of Communication in the creation of social change. WFI research grants are given to scholars conducting the kinds of communication-focused research needed to engage the complexities of social justice.
This study is part of Kim's dissertation, which examines how social identities within social networks influence the perception of bias and credibility in information. His dissertation also considers how social identities, such as race and political affiliation, within social networks affect the way individuals spread information.
In addition to the WFI grant, Kim's dissertation is supported by a Russell Ackoff Doctoral Student Fellowship Award from the Wharton School at the University of Pennsylvania and a research grant from MisinfoCon, one of the largest organizations of professionals in the misinformation and fact-checking field.
A former computer scientist, Kim studies computational social science, with a particular focus on information propagation, social influence, and social networks. He has presented his work at various academic conferences, including the International Communication Association, from which he won a Best Paper Award in 2019.