New Annenberg Presidential Associate Professor Sarah J. Jackson Studies Narratives of Race and Gender in the Media
Jackson is interested in which voices in the media shape and frame racial and gender politics.
At the age of 17, Sarah J. Jackson had a remarkably clear vision for where her future was going: "I'm going to be a college professor and teach about media and people will call me Dr. Jackson."
Today, she is, she does, and they do.
After graduating as a McNair Scholar from the University of Utah, earning her M.A. in Communication Studies from the University of Michigan, and receiving a Ph.D. in Communication from the University of Minnesota, Jackson went on to become an associate professor of Communication Studies at Northeastern University. This July, she will make the jump to the University of Pennsylvania's Annenberg School for Communication where she has accepted a Presidential Associate Professorship.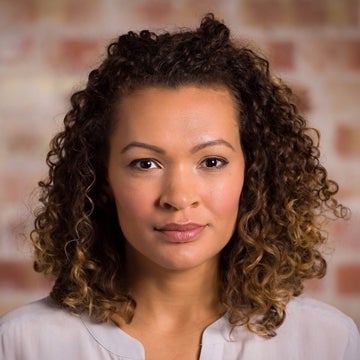 Jackson studies media made by and about black activists and feminist activists, zeroing in on which voices in the media shape and frame racial and gender politics.
While societies tend to exclude marginalized groups like racial minorities, LGBTQ people, and women from creating dominant political narratives, Jackson focuses on the way voices from those groups nonetheless have wielded power and influence.
In her first book, Black Celebrity, Racial Politics, & the Press: Framing Dissent (Routledge, 2014), Jackson explored black celebrity activism, and how people from Paul Robeson to Kanye West have used their platform to critique American culture. She also examined how the media has framed their messages, both limiting and elevating them.
As one of the earliest scholars to focus on black and feminist activism on Twitter, Jackson has been cited frequently by other scholars, and she has provided commentary to media outlets including PBS, NPR, the New York Times, and the Associated Press.
As a faculty affiliate of the Berkman Klein Center for Internet and Society and a Fall 2018 fellow in the Harvard Kennedy School Shorenstein Center for Media, Politics and Public Policy, Jackson recently completed the manuscript for her second book, #HashtagActivism: Race and Gender in America's Networked Counterpublics (MIT Press, forthcoming), co-authored with Moya Bailey and Brooke Foucault Welles. It explores hashtags promoting racial and gender justice, such as #blacklivesmatter and #metoo, asking how online networks of dissent shape public discourse, politics, and media.

Watch Jackson talk about her hashtag activism research in this video.
For her next project, and as 2019 New America National Fellow, Jackson is looking at how contemporary black media makers and cultural workers like education journalist Nikole Hannah-Jones, filmmaker Ava DuVernay, and author Ta-Nehisi Coates are challenging the mainstream ways we talk about race and inequality while also shaping our collective memory of the long history of black intellectuals who preceded them.
Through teaching undergraduates at Northeastern, Jackson has been surprised by how even the most educated students have gotten distorted information about black activism of the past.
"They get to college thinking that Rosa Parks was an old woman with tired feet who just decided to sit down," she says. "When they learn that Rosa Parks was closer in age to Beyoncé and [Parks] was part of a coordinated effort by activists, they feel put off."
The students wonder why the mainstream stories they've gotten about race and justice are so distorted, she says.
"Part of my new work is how black storytellers intervene in that sanitization and paint a fuller picture," says Jackson.
Teaching is one of Jackson's passions, and she is proud of many of the projects her undergraduates produced at Northeastern, including a seven-part podcast about the impact of the 1980s war on drugs on Boston's African American community and a website on the oral history of policing in Ferguson, Missouri.  In part, she was drawn to Penn by the opportunity to work closely with graduate students as well as undergraduates.
She is also passionate about making her scholarly work relevant to the world outside of academia, and is keen to connect with the activist community in Philadelphia, just as she did in Boston.
"The spirit of my work is saying, 'How can what I'm studying be put into action, not just to change and influence scholarship and how we ask questions about media and social change, but also to serve the people on the ground doing that kind of work?'" she says. "I'm very excited to be in a city like Philly with a vibrant organizing and activist community."
Jackson is a founding member of the Center for Critical Race and Digital Studies at New York University and a board member of the leading feminist journal Signs: Journal of Women and Culture in Society.
"Professor Sarah Jackson's work both interfaces nicely with several of the key areas of expertise among our Annenberg faculty while encompassing themes and areas of emphasis/interest that are distinct from what our outstanding faculty already do so well," says Annenberg School Dean John L. Jackson, Jr. "She is unabashedly interdisciplinary, and innovative in her approach, and we are so fortunate to have her joining our intellectual community here at Penn." 
Outside of academics, Jackson is a certified yoga teacher who likes to travel, camp, and hang out with her 13-year-old miniature pinscher mix.