Ph.D. Candidates Zane Cooper and Lauren Bridges Receive Grant to Study E-Waste Management
The research team will develop policy recommendations to combat climate injustices caused by e-waste throughout the entire tech supply chain.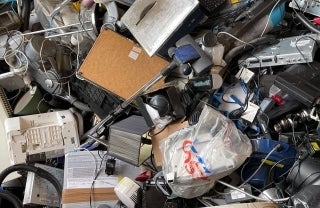 According to the United Nations, the world produces as much as 50 million tons of e-waste — or discarded electronics — per year. When buried in a landfill, these discarded items, including smartphones, microwaves, copiers, electrical cords, etc., slowly leach toxic chemicals into the earth, causing environmental crises and negatively impacting landfill workers.
This week, Annenberg School doctoral candidates Lauren Bridges and Zane Griffin Talley Cooper, along with a global research team, have received a $200,000 grant from the Internet Society Foundation to study the human and material costs of e-waste, how it flows through different global sites, and the challenges of raising awareness around the harms of e-waste production and management.
"As climate change continues to shape life on our planet, we know that its effects will be distributed disproportionally along political, racial, and economic lines," says Cooper. "Our research is intended to support an increased understanding of the internet's role in environmental changes and the subsequent ecological and human costs."
Entitled "Greening from the Margins: The Geopolitics of Extractive, Operational, and Post-Consumer E-Waste Management," the study aims to broaden definitions of e-waste, tracing how it moves through different life phases: extraction of raw resources like rare earth minerals, operation and consumption in cloud computing and logistics, and management of e-waste recycling and discard. The researchers seek to illuminate the unequal flows of e-waste from the global North to the global South and the ways transnational tech companies, like Amazon, are contributing to the growing issue of e-waste production.
"Our goal is to produce comprehensive environmental policy recommendations and grounded interventions to raise awareness of e-waste management practices," says Bridges. "We cannot overstate the importance of connection-making across contexts in order to create policies and practices that combat climate injustices across the globe."
The project is a collaborative effort between Annenberg's Center for Advanced Research in Global Communication and the Internet Society's Zimbabwe Chapter and will bring together a transnational team of researchers working in different sites from Zimbabwe, Greenland, Iceland, and the United States.