Samantha Moore-Berg Named Inaugural Bruneau Fellow
The fellowship was established to honor the memory of Emile Bruneau, peace and conflict neuroscientist.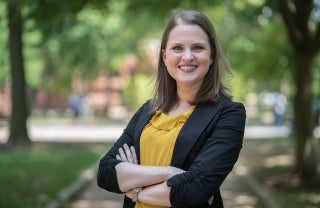 Samantha Moore-Berg, currently a postdoctoral fellow with the Peace and Conflict Neuroscience Lab (PCNL), has been named the inaugural Emile Bruneau Postdoctoral Fellow at the Annenberg School for Communication at the University of Pennsylvania.
The newly established fellowship honors the memory and legacy of the late Emile Bruneau, Annenberg School researcher and founding director of PCNL. Bruneau's legacy will live on through the work of passionate, interdisciplinary scholars, artists, and creators with a vision as unique and ambitious as his own.
"Emile's mission was, simply put, to harness science for peace," says Dean John L. Jackson, Jr. "In the spirit of Emile, the Annenberg School seeks to foster scholarship that is rigorous, paradigm shifting, and driven by a desire to improve the human condition. We are thrilled to launch this fellowship toward that end, and we are confident that Samantha is the perfect inaugural fellow."
Moore-Berg, who joined the Annenberg School as a postdoctoral fellow in 2018, investigates the antecedents and consequences of intergroup conflict around the globe and uses these findings to develop interventions that promote peace and reconciliation. A key commitment of Moore-Berg's research involves consulting with stakeholders outside academia who are directly involved in the conflicts she studies. She worked closely with Bruneau until his death last year, collaborating on numerous studies and co-authoring nine journal articles.
"I was very fortunate to work with Emile for two years as his postdoc," Moore-Berg says. "During this time, I learned how to put science to work for peace by connecting my research to communities that could most benefit from it. I am excited to continue his legacy as the inaugural recipient of the Emile Bruneau Postdoctoral Fellowship. I look forward to continuing to use my research to make the world a more peaceful place."
As a Bruneau Fellow, Moore-Berg will serve as the principal investigator for PCNL and will continue working on a variety of projects, including assessing attitudes toward immigration; developing interventions to reduce anti-migrant bias; developing interventions to reduce political polarization; analyzing media's impact on partisan attitudes; developing interventions to correct misperceptions about racial wealth inequality; and many others.
Moore-Berg's work has appeared in academic journals such as Proceedings of the National Academy of Science, Personality and Social Psychology Bulletin, Social Psychological and Personality Science, and Current Opinion in Behavioral Sciences. She received her Ph.D. in Social Psychology from Temple University, and her B.A. in Psychology and Sociology from Florida State University.