Ticona and Collaborators Awarded $2.5 Million NSF Grant
They will explore worker wages, pricing transparency, and the meaning of access to digital work for marginalized communities.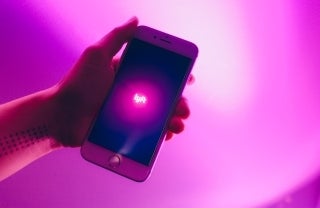 Platforms like Uber and Care.com are radically changing the way we view labor, and many people are wondering what the future of work will look like. How will technology and the gig economy continue to shift the conditions of work? What can we do to make conditions better, rather than worse, for workers?
Julia Ticona, assistant professor of Communication at the Annenberg School, and her research partner Chris Callison-Burch, associate professor of Computer and Information Science at the School of Engineering and Applied Science, will explore these issues through a study funded by the National Science Foundation (NSF). Ticona and Callison-Burch's work will be supported by a $2.5 million collaborative grant involving scholars from Carnegie-Mellon University, Pennsylvania State University, the University of Pennsylvania, and West Virginia State University.
These scholars will study the Future of Work on the Human-Technology Frontier, one of NSF's 10 Big Ideas announced in 2016. The grant aims to bring together researchers from computer science and the social sciences to undertake a variety of studies focused on the hidden workers and infrastructures that power artificial intelligence (AI) systems, such as the Amazon Mechanical Turk crowdsourcing marketplace. The grant is meant to catalyze interdisciplinary research that examines the benefits and risks of the technological transformation of work.
Drawing on Callison-Burch's deep expertise in crowdsourcing and AI and Ticona's research about cultures of low-wage work and the politics of digital labor platforms, the pair will explore social and computational approaches to improving worker wages, pricing transparency, and the meaning of access to digital work for marginalized urban and rural communities.
"The challenges we face now around equity and justice in platform work require thinking that goes beyond the scope of any one field or discipline," says Ticona. "I'm excited to bring together both critical and applied approaches to understanding these workers, with an eye toward its wider significance for other types of work across the economy."
Ticona's research investigates the ways digital communication technologies shape the meaning and dignity of precarious work. She uses qualitative methods to examine the role of mobile phones, algorithmic labor platforms, and data-intensive management systems in the construction of identity and inequality for low-wage workers. Her research on domestic work platforms, like Care.com, can be found in New Media & Society and has been covered by the New York Times, NPR, and The Nation. Her book, about the "digital hustles" of high and low-status freelancers in the gig economy, is under contract with Oxford University Press.
Callison-Burch extends modern approaches to machine translation, like those used in Google's online translation system, to a wider range of the world's languages. He is currently exploring how machines can best recognize that two sentences share the same meaning, even when they have no words in common. He has over 100 publications, which have been cited more than 10,000 times.