Center for Advanced Research in Global Communication
About
About
Since its inception in 2013, CARGC has established itself as the center of gravity for the University of Pennsylvania Annenberg School for Communication's global work.
As an institute for advanced study, we are committed to supporting early career scholars from around the world. We host several fellowship programs including faculty, postdoctoral, doctoral, and undergraduate programs. Our fellows bring fresh ideas and new topics to the field of global communication. They collaborate in research groups, organize symposia, give colloquia, and are fully engaged in the daily life of the center, an inclusive community of scholars driven by intellectual generosity, curiosity, and exchange.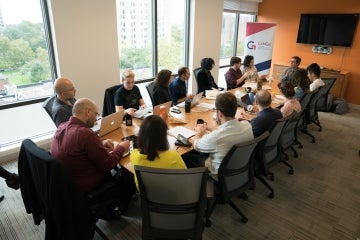 We organize distinguished lectures with eminent scholars like Michael Curtin, Anikó Imre, Saskia Sassen, and Arjun Appadurai, and convene master classes, symposia, and workshops on topics ranging from data sovereignty and ISIS media to popular culture and coloniality. We hold regular book talks, colloquia, and panel discussions on topics of crucial relevance to geopolitics and communication. Our vision of "inclusive globalization" recognizes plurality and inequality in global media and the need for deep regional expertise and interdisciplinary inquiry.
CARGC Press oversees the Center's knowledge production and dissemination activities. It publishes CARGC papers authored by our fellows and distinguished visitors, policy-focused briefs, and special issues with partners such as the International Journal of Culture and Communication and Communication and the Public. Reflective of our vision of "inclusive globalization," all our publications are available free and open access. CARGC Press is also committed to digital scholarship and being at the forefront of technologically and economically driven changes to knowledge production and dissemination.
Our Mission
The Center for Advanced Research in Global Communication produces and promotes scholarly research on global communication and public life. As an institute for advanced study dedicated to global media studies, we revisit enduring questions and engage pressing matters in geopolitics and communication. Our vision of "inclusive globalization" recognizes plurality and inequality in global media, politics, and culture. Our translocal approach fuses multidisciplinary regional knowledge with theory and methodology in the humanities and social sciences.
This synthesis of deep expertise and interdisciplinary inquiry stimulates critical conversations about entrenched and emerging communicative structures, practices, flows, and struggles. We explore new ways of understanding and explaining the world, including public and multi-modal scholarship, algorithmic culture, the arts, and digital archives. With a core commitment to the development of early career scholars worldwide, CARGC hosts postdoctoral, doctoral, undergraduate, and faculty fellows who collaborate in research groups, author CARGC Press publications, and organize talks, lectures, symposia, conferences, and summer institutes.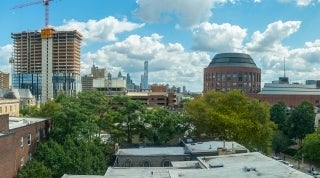 CARGC World Headquarters
CARGC is located on the sixth floor of 3901 Walnut Street on the University of Pennsylvania campus. The space features large windows displaying views of Penn, West Philadelphia, and Center City; a state-of-the-art conference room for CARGC book talks, colloquia, writing group sessions, meetings, and interviews; and a combination of open workspaces and spacious offices ideally suited for research, writing, and collaboration.