Alum Yoel Roth (Ph.D. '16) to Study Trust and Technology as Knight Visiting Scholar
During the 2023-24 academic year, the former head of Trust and Safety at Twitter will return to Annenberg as a visiting scholar with the Center for Media at Risk.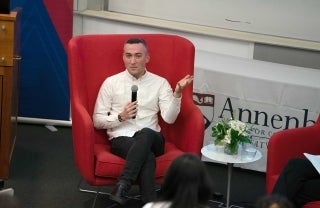 When it comes to the notions of online harassment and misinformation, it would be hard to find someone more experienced than Yoel Roth (Ph.D. '16). Beginning as an intern at Twitter in 2014 and rising over the course of eight years to become its head of Trust and Safety, Roth worked to reduce harassment and harmful disinformation on the platform while preserving as much open expression as possible. 
After working to find and expose Russian disinformation campaigns following the 2016 election, one might assume Roth was prepared for just about anything. But the years to come brought the kind of personal attacks for which no one is prepared: In 2020, President Donald Trump publicly lashed out at Roth for the company's decision to suspend Trump's Twitter account. Then in 2022, Twitter's new owner — the richest person in the world — cited a section of Roth's doctoral dissertation out of context to smear him on Twitter. The resulting threats to his personal safety led Roth to go as far as to move and sell his house. 
Roth could fill a book with the things he's seen and learned about trust and safety online, and in the coming year, that's one of the things he plans to do. 
This fall and spring, Roth will be a visiting scholar at the Annenberg School for Communication's Center for Media at Risk. The position is partly supported by a grant from the John S. and James L. Knight Foundation. 
As a visiting scholar, Roth will pursue research around his broadest goal of developing trustworthy technology — how platforms, regulators, and users come together to shape the internet, and what can be done to build technology that is safe for users and aligned with the public interest. 
"The Center for Media at Risk is thrilled to have Yoel on board this academic year, and personally I am delighted by the opportunity to bring him back into the Annenberg community," says Center Director Barbie Zelizer, who is the Raymond Williams Professor of Communication. "Yoel's career thus far reflects the very highest expectations that come with an Annenberg degree, and I can't wait to see what he accomplishes on the road ahead."
Among the research topics that interest Roth is one for which Twitter received criticism: the ways in which governments and tech companies intersect — how governments try to shape the decisions tech companies make, how those companies could and should respond to that pressure, and how the whole process can be made more transparent, accountable and democratic. 
In addition to studying other aspects of transparency, safety, and security on tech platforms, Roth is also interested in exploring ways in which researchers and tech employees have become personally targeted for the work that they do. 
Roth will also use this time to share what he has learned with both the public and the academy, through op-eds, public lectures, journal articles, and more. He is also in the early stages of writing a book unpacking the complex tradeoffs that inform how tech platforms govern online speech and how to make those processes more accountable and trustworthy.
Roth will go back and forth between coasts throughout the year, and he is looking forward to participating once again in the academic life of the Annenberg School. He also plans to teach a course in the Spring. 
"I'm very excited to work with students and serve as a mentor for those who want to apply their doctoral degrees to industry roles," says Roth. "I also look forward to supporting students and faculty who are pursuing research on internet governance, safety, and security."