Andy Tan Studies How Messaging Campaigns Can Promote Health Equity
An Annenberg alum, Tan will join the faculty as an associate professor on July 1.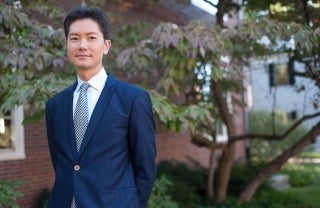 There is no shortage of people at the Annenberg School who are addressed with the title "Dr." But when Andy Tan joins the Annenberg faculty on July 1 as an Associate Professor of Communication, he will be the first who is not only a Ph.D., but a medical doctor as well.
Tan's research aims to design culturally-appropriate messaging campaigns that will promote better health choices, particularly regarding tobacco use. His focus is on young people, but also on vulnerable populations like racial and ethnic minorities, socioeconomically disadvantaged groups, and the LGBTQ+ population, all of whom tend to smoke at a much higher rate than the general population and who have been targeted for decades by tobacco industry marketing.
For Tan, who is currently an Assistant Professor at Harvard's T.H. Chan School of Public Health and the Dana-Farber Cancer Institute, it is a "dream come true" to return to the Annenberg School, where he received his Ph.D. in 2013 and served as a postdoctoral fellow in the year following. And his career path has given him a unique and diverse lens through which to view health communication. 
Tan received his M.B.B.S. degree in 2001 from the National University of Singapore, and spent several years practicing medicine in his native Singapore, fully prepared to make that his career. While fulfilling his required service in the Singapore Armed Forces, Tan served in a medical unit tasked with developing protocols to contain the 2002 SARS outbreak among military members.
"I had very minimal exposure to that line of work in medical school and clinical practice," he says. "It got me excited about public health and prevention."
After his military service ended, Tan joined a unit of Singapore's Ministry of Health that conducted public health campaigns. Because Singapore is multicultural and multilingual, he also gained an appreciation for the importance of culturally-specific messaging and how to think about such programs at a population level.
In 2006, he received a government scholarship  to attend the Johns Hopkins University's Bloomberg School of Public Health in order to deepen his knowledge of principles and practice in public health communication. Two years later, he graduated with both a master's in public health (M.P.H.) and a master's in business administration (M.B.A.) from Johns Hopkins.
While the plan had been to return to Singapore, Tan found himself "bitten by the research bug," and that led to the Annenberg School, where he worked with Professor Robert Hornik to earn his Ph.D.
Since 2013, Tan's work has centered on finding ways to reduce tobacco use, including cigarettes and other nicotine products such as e-cigarettes. Tan notes that in the U.S., numerous minority groups and vulnerable and disadvantaged populations have smoking rates that are significantly higher than the general population. For example, LGBTQ+ young adults are twice as likely to smoke as their straight peers.
"My research has really been trying to understand the role of tobacco industry marketing toward these vulnerable populations," says Tan, "and whether this marketing interacts with other social, cultural, individual, or environmental factors that are known to be associated with smoking, to explain the higher rates of tobacco use in these populations."
His early-career publishing has been prolific: Tan is the author of 70 refereed publications, and he was the first or senior author on more than 30 of them.
Tan is also an experienced collaborator across institutions, departments, and disciplines. Not only has he co-published with faculty and students from the Annenberg School, but also with his fellow alumni, including Cabral Bigman-Galimore (Ph.D. '11), Susan Mello (Ph.D. '13), Ashley Sanders-Jackson (Ph.D. '11), Chul-Joo Lee (Ph.D. '09), Nehama Lewis-Persky (Ph.D. '10), Lourdes Martinez (Ph.D. '11), Peter Busse (Ph.D. '11), Jeff Niederdeppe (Ph.D. '06), Rebekah Nagler (Ph.D. '10), and Angel Bourgoin (Ph.D. '13).
In January, Tan received an R01 grant titled Project Resist from the National Institutes of Health to design culturally-appropriate, effective anti-smoking campaigns for young adult women who self-identify as a sexual minority. This group has up to 4.8 times greater odds of smoking compared to their heterosexual counterparts, and Tan's previous research has found that they report being exposed to higher rates of tobacco advertising including cigarette, e-cigarette, and cigar ads. The study will rely on communication theories including inoculation and cultural tailoring and the resilience framework in LGBTQ+ health promotion in developing and evaluating the effectiveness of anti-smoking messages among young adult sexual minority women.
While there have been interventions focused on LGBTQ+ populations generally, few have been tailored specifically to women. Using community-based participatory approaches, Tan is partnering from the outset with community organizations who are on the ground serving the LGBTQ+ community in order to better design anti-smoking communications that can be put into practice in the real world.
"We are mindful that research takes a long time, and we don't want to wait five years to start showing draft results to our community partners, who have a lot more experience interacting with this population," says Tan. "We want to involve them from the very beginning to provide feedback on our research design, the messages we're testing, and the health related arguments we're using."
"From his focus on the most vulnerable populations in his studies of health equity to his impressive history of collaboration with scholars from different disciplines, Andy brings a generosity and inclusivity to his work," says Annenberg School Dean John L. Jackson, Jr.  "He will play a major role in maintaining and developing Annenberg's strong faculty expertise in the area of health communication and anti-tobacco messaging."
Outside of Annenberg, Tan describes himself as an "orchid freak," with more than a dozen in his collection. It's a passion he traces back to memories visiting the Singapore Botanic Gardens. He also loves to go scuba diving with his husband. They were diving in Honduras when Tan got the call from Dean Jackson he'd gotten the job at Annenberg.
"Being able to work, teach, conduct research, and mentor students within the Annenberg School — I don't think I can ask for anything more than that," says Tan.