Annenberg Conversations to Focus on Gender in 2021-2022 Academic Year
Conversations will examine the current state of sexism, homophobia, and transphobia in various sectors of society.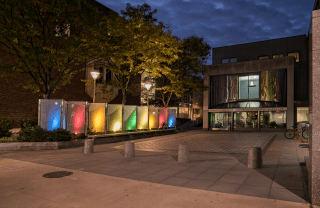 The Annenberg School for Communication will be continuing its Annenberg Conversations event series, established during the 2020-2021 academic year. The series is designed to engage Communication research and scholarship on topical issues, and each conversation features a member of the Annenberg Community in dialogue with one or more interlocutors from outside the school, drawing upon diverse perspectives, experiences, and expertise — including academics, activists, artists, and many others.
Each academic year, Annenberg Conversations focuses on a different topic of interest. For the 2021-22 academic year, the Annenberg Conversations series will focus on gender.

Annenberg Conversations on Gender events are dialogues designed to examine the current state of sexism, homophobia, and transphobia in various sectors of society. These conversations will highlight the role of communication and mass media in defining and disseminating concepts related to gender, including but not limited to gender roles, gender presentation, the gender binary, and gender identity.
"During last year's series on race, it felt like we were pulling the curtain back on racial logics that are difficult to apprehend let alone talk about," said Dean John L. Jackson, Jr. "They were incredibly authentic, candid discussions that connected theory with practical and political concerns. I have every expectation that this year's conversations about gender will do the same."
The first event this year will take place on September 3 and will feature Professor Duncan J. Watts in conversation with Danaë Metaxa, an incoming assistant professor at the School of Engineering and Applied Science. Watts and Metaxa will discuss Metaxa's research using algorithm audits to measure gender and racial bias in online services such as Google Images. They will also touch on the importance of reconciling the sometimes competing epistemic values of computer science and social science, as well as the relationship between a researchers' own identity, the work they choose to do, and the way both are perceived in a sometimes hostile professional environment.
The series will include an additional six events throughout the academic year, featuring Rosa Mikeal Martey, Sarah Banet-Weiser, and others. More information will be posted on Annenberg's event listing as it becomes available. All 2021-22 conversations will be held virtually and are open to the public.