Annenberg Presentations at APSA 2019
We've compiled a helpful list of all presentations being given by Annenberg authors.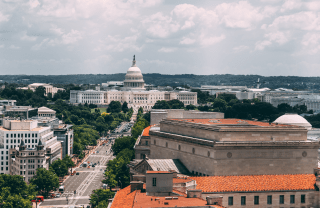 Eleven Annenberg faculty members and graduate students will present at the American Political Science Association's 2019 Meeting, to be held August 29 – September 1 in Washington, D.C.
The presentations are listed below. For the full program, visit APSA's conference website.
Wednesday, August 28
Preconference Panels
Misinformation and Propaganda around the Globe
Ozan Kuru — "Understanding Informational Processing in WhatsApp Groups: A Comparative Study of User Perceptions and Practices in Turkey, Singapore, and the USA"
Institutions and Behavior in Troubled Times
Dominik Stecula — "Party Cues in the News: Elite Opinion Leadership and American Attitudes Towards Climate Change"
The Deep Roots of Troubled Times
Tyler Leigh, Alex Tolkin, Lizzie Martin, and Diana C. Mutz — "Perceptions of Polarization Among Facebook Users"
Thursday, August 29
4:00-5:30pm
Incivility and Being Mad Online (Hilton, Columbia 4)
Jin Woo Kim — "How Online Comments Affect Polarization and Incivility"
Yphtach Lelkes — "The Constraint Affordance and Political Discourse"
Friday, August 30
8:00-9:30am
Communicating Politics Online (Hilton, Tenleytwon West)
10:00-11:30am
The Dynamics of Climate Policy Support in the U.S. (Marriott, Virginia C)
Dominik Stecula — Discussant
11:30am-3:30pm
MPSA Council Meeting (Petits-Plats)
2:00-3:30pm
The Role of Emotions in Politics (Hilton, Gunston West)
4:00-5:30pm
Formation of Mass Attitudes (Hilton, Columbia 12)
Daniel J. Hopkins — "The Feedback Effects of Market-Based Policy: Evidence from ACA Opinions"
Responses to the Trump Administration (Hilton, Columbia 2)
Lizzie Martin, Diana C. Mutz, Tyler Leigh, and Alexander Tolkin — "Trade and Immigration: Failures of Opinion Leadership in the Trump Presidency"
6:30-7:30pm
Political Psychology Section Business Meeting (Hilton, Fairchild West)
Daniel J. Hopkins — Chair
Saturday, August 31
10:00-11:30am
Elites in the News (Hilton, Columbia 12)
Dominik Stecula — "News Consumption Patterns of Political Elites in the U.S."
Polling Results and Voters' Perceptions (Hilton, Columbia 1)
Yphtach Lelkes — "What Election Forecasts Mean for Electoral Competition and Voter Turnout"
12:00-1:30pm
#MeToo and Responses to Sexual Harassment (Hilton, Columbia 11)
Alexander Tolkin, Diana C. Mutz, Tyler Leigh, and Lizzie Martin — "Kavanaugh and the Court: Institutional Legitimacy in the #MeToo Era"
2:00-3:00pm
Understanding Attitudes toward Immigration (Hilton, Tenleytown West)
Daniel J. Hopkins — Discussant
4:00-5:30pm
Media Effects (Hilton, Columbia 12)
Kathleen Hall Jamieson — "Disentangling Debate and Media Effects in the 2016 Elections"
Sunday, September 1
8:00-9:30am
How Spatial Context and Institutions Affect Behavior and Distributive Outcomes (Marriott, Virginia C)
Daniel J. Hopkins — "Changing Demographics, Changing Votes? Local Demographic Changes and Vote Choice"
Political Polarization (Hilton, Rock Creek)
Hey-Yon Lee and Yphtach Lelkes — "Positive Partisanship: Partisans are Primarily Motivated by In-Party Favoritism"
Truth and/or Consequences (Hilton, Tenleytown West)