Annenberg Presentations at IAMCR 2017
We've compiled a helpful list of all presentations being given by Annenberg authors.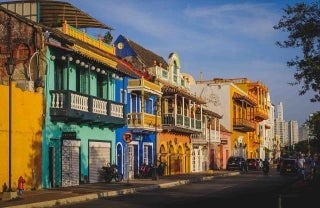 Sixteen Annenberg faculty, students, and visiting scholars will present at the International Association for Media and Communication Research's 2017 Conference, to be held July 16-20 in Cartagena, Colombia.
The presentations are listed below, and include room location in parentheses. All events are at the Cartagena de Indias Convention Center. For the full program, visit IAMCR's conference website.
Monday, July 17
8:30 – 10:00
Analyzing World Trends in Freedom of Expression and Media Development (Sala 301)
Monroe Price — "UNESCO and the Political Economy of Preparing Global Reports"
Media, Space and Power (Sala 304 A)
Oscar Gandy — "Neuroeconomics, Behavioral Economics and the Political Economy of Nudge"
14:00 – 15:30
Digital Commons, Information Commodification (Sala 304 A)
Zane Cooper — "Sins of Attraction: The Political Economy of Media and Magnets"
International Panel on Social Progress (Getsemani Auditorium)
Marwan M. Kraidy — "Los medios, la comunicación y la lucha por la justicia social"
Roundtable: The Rise of Nationalism and the Challenge to Globalization (Pegasos 1)
Victor Pickard — Participant
16:00 – 17:30
Politics & Populism & Participation (Sala 304B)
Tuesday, July 18
8:30 – 10:00
Academic Citizenship in Demanding Times (Getsemani Auditorium)
Barbie Zelizer — Participant
10:30 – 12:00
Media and the Dissemination of Fear during War and its Aftermath (Sala 301 B)
Barbie Zelizer — "Breeding Fear: US Enemy Formation during the Cold War"
14:00 – 15:30
Political Economy of News & Journalism (Barahona 1.2)
Victor Pickard — "The Rise of the Misinformation Society: Market Failure and the Decline of Journalism"
David Elliot Berman — "Clickbait Ate the News: An Alternative Explanation for the Decline of the News Industry"
Errol Salamon — "International E-Lancer Resistance: Precarious Freelance Journalists, Their Rights and Contract"
Representation of the Past and Memory Construction through the Media (Sala 301B)
Wednesday, July 19
14:00 – 15:30
The Power of Representation in News Media (Barahona 2.3)
Sharrona Pearl — "The Religious Framework of Forgiveness Without Apology for Survivors of Shootings"
15:00 – 15:30
Book Launch for the Mandarin Translation of Objects of Remembrance by Monroe Price (Terrace Cloister of the Animas)
Monroe Price, Guobin Yang, and Barbie Zelizer — Panel Participants
16:00 – 17:30
Labour Relations and Speaking Truth to Power (Sala 301 B)
John Remensperger — "Yes to Workers, Maybe to Labor: Representations of Labor in the LA Free Press"
Opeyemi Akanbi — "Privacy at the Blurring Boundaries of Work"
Thursday, July 20
8:30 – 10:00
Media Policy/Regulation Issues (Barahona 1.2)
Sanjay Jolly — "The Complex Terrains of Post-Legislation Media Reform in Ecuador"
10:30 – 12:00
Digital Divide and the Society (Barahona 4.1)
John Vilanova — "Top Up, Top Down: Jamaican Mobile Telephony, Epistemic Paratext, and the Ontological Divide"
Corporate Media Power and Neoliberalism (Barahona 1.2)
Pawel Popiel — "The Tech Lobby: Tracing the Contours of New Media Elite Lobbying Power"
14:00 – 15:30
New Media Business Models & Value Chains (Barahona 1.1)
Opeyemi Akanbi — "Facebook: A Political Economy"
Lee McGuigan — "The Productive Capacity of Commercial Television: An Approach for Analyzing Media Systems in Society"
Automation and Labor in New Economy Platforms (Barahona 1.2)
Opeyemi Akanbi — "Facebook: A Political Economy"