Annenberg Researchers Use Data Science Skills for Social Justice
Jake Parelman and Matt O'Donnell are working with Amistad Law Project to track COVID-19 cases in Pennsylvania prisons.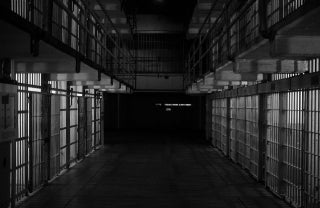 Sixty-nine-year-old Bruce Norris, incarcerated in Pennsylvania on a lifetime sentence, began his application for commutation in 2019, after having spent more than 40 years in prison. He was finally approved — unanimously — by the Board of Pardons in December 2020. His application then went to Governor Tom Wolf's desk, where it remained unsigned, along with 13 other applications approved by the Board.
In January, Norris contracted COVID-19, and on Saturday, January 30, he died.
Incarcerated individuals are five times more likely to be infected by the coronavirus, and they are also more likely to die as a result. Norris's loved ones will never know for sure if he would have avoided contracting COVID-19 if he'd been released from prison, but his chances certainly would have been better.
Unfortunately, Norris's case is not unique. The pandemic has ravaged prisons across the country, and — with visitation suspended and little or no reporting available about what's happening inside — many loved ones have no concrete information about the health and safety of those incarcerated.
Last summer, the combination of the COVID-19 pandemic and the protests against police brutality following the murder of George Floyd sparked a desire in Annenberg doctoral candidate Jacob M. Parelman to use his data science skills for social justice.
"I was motivated to do something, but I didn't know what would be most helpful to the people and organizations already mobilizing around the issues that are important to me," says Parelman. "So I just decided to reach out to a few groups in Philly, including Amistad Law Project, and ask if they had any data related needs I could help with."
Focused on prison abolition since its founding in 2014, Amistad Law Project (ALP) offers free or low-cost legal services to Philadelphians and incarcerated individuals in Pennsylvania prisons, and advocates for laws and policies to reduce, and eventually eliminate, prison populations. With the onset of the COVID-19 pandemic last year, ALP's work has become even more important, as reducing the population of prisons helps both those released and those remaining avoid contracting the coronavirus.
When Parelman connected with Sean Damon at ALP, Damon explained the problem with how little COVID-19 related data was publicly available from the Pennsylvania Department of Corrections (DOC) and asked if Parelman thought he could help.
"The Department of Corrections needed to advocate for the Governor to dramatically reduce the prison population using his reprieve power so people who remained in prison could single cell and social distance," says Damon. "They failed to do so. We knew if we were able to dig into the data we'd be able to shed a light on how they've mismanaged this crisis and how the Commonwealth incarcerates too many people to meaningfully care for them."
After learning about ALP's data needs, Parelman asked Matthew Brook O'Donnell, Annenberg Research Assistant Professor and fellow data scientist, to work with him and Damon. O'Donnell, who teaches data science undergraduate courses at Annenberg, strongly believes that public health data should be easy to access and understand for everyone.
Parelman and O'Donnell began by compiling what data was publicly available already, analyzing it to understand what information was present and what was missing, and creating an archive of it, in the event the state decided to revoke access to it. They quickly realized that the data was incomplete, so they reached out to the state in an attempt to acquire more data. Eventually, after a lot of back and forth, they began receiving daily spreadsheets from the DOC.
They have used all of this data to create an open access dashboard, hosted by ALP, that anyone can view online. They caution that it's not perfect, as they are limited to the data the state will share with them, and unfortunately, they've noticed errors and inconsistencies with even this limited data.
"The Pennsylvania DOC doesn't really have a data science team," says O'Donnell, "so it's not particularly surprising that the data we're receiving isn't perfect. Most people who haven't had specific training in working with data don't necessarily know how to compile, track, analyze, and visualize data. We've offered to help them, but so far they haven't taken us up on that offer."
On February 1, the DOC announced that it's making changes to its COVID-19 safety and testing protocols and data management practices, and has temporarily taken down its dashboard. That makes ALP's dashboard the only resource for comprehensive information about COVID-19 in Pennsylvania prisons, until the state relaunches its own.
"The DOC is making these changes due to immense and sustained pressure from advocacy groups like Amistad Law Project," says Parelman, "and I'm hopeful the new protocols and data management will be an improvement. But in the meantime, our access to the data is more limited than before, so our dashboard isn't as good as we'd like it to be. Having access to even less accurate data is incredibly concerning for family members and other loved ones."
Parelman and O'Donnell are committed to data transparency and describe their ongoing efforts as the right thing to do. They are hopeful their work will help ALP and other advocates to successfully push for more commutations and for safer conditions for incarcerated individuals.
Parelman says, "No one deserves to die of COVID-19 simply because they are incarcerated."