Center for Advanced Research in Global Communication Releases CARGC Paper 11
Julia Becker (C'18) examines the American and Mexican political climates, immigration rhetoric, and street art as protest.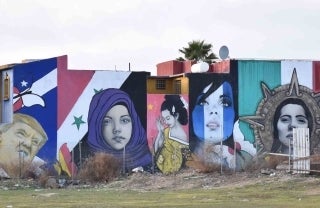 What tools are at hand for residents living on the US-Mexico border to respond to mainstream news and presidential-driven narratives about immigrants, immigration, and the border region? How do citizen activists living far from the border contend with President Trump's promises to "build the wall," enact immigration bans, and deport the millions of undocumented immigrants living in the United States? How do situated, highly localized pieces of street art engage with new media to become creative and internationally resonant sites of defiance?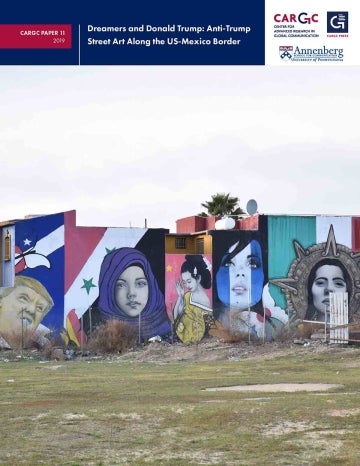 CARGC Paper 11, "Dreamers and Donald Trump: Anti-Trump Street Art Along the US-Mexico Border," answers these questions through a textual analysis of street art in the border region. Drawing on her Undergraduate Honors Thesis and fieldwork she conducted at border sites in Texas, California, and Mexico in early 2018, former CARGC Undergraduate Fellow Julia Becker takes stock of the political climate in the U.S. and Mexico, examines Donald Trump's rhetoric about immigration, and analyzes how street art situated at the border becomes a medium of protest in response to that rhetoric.
CARGC Director Marwan M. Kraidy notes that in this timely and original publication, "Julia contributes to our grasp of the work of anti-deportation and pro-immigration citizen-artist-activists, and to our understanding of the interconnections between city walls and digital sites in the articulation of resistance to cruel and inhumane policies."
In May 2018, Becker received a B.A. in Communication from the University of Pennsylvania, where she was an undergraduate grant recipient with the Andrea Mitchell Center for the Study of Democracy. She currently lives in Spokane, Washington and works in energy analytics.
Click here to read CARGC Paper 11.