Congratulations to Annenberg's 2021 Graduates
Ten students earned their doctoral degrees, and 10 students received M.A. degrees.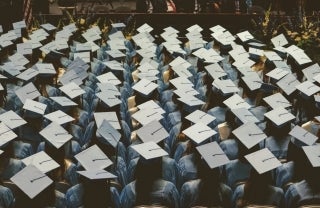 On Tuesday, August 24, the Annenberg School for Communication held its annual graduation ceremony for doctoral students. The virtual celebration honored 10 graduate students who have earned their doctoral degrees in Communication.
The ceremony honored the following students, listed with their dissertation titles:
Yasemin Y. Celikkol — "Turkish TV Series in Bulgaria and Russia: The Terribly Charming Turk in the Global Media Matrix"
Jennifer R. Henrichsen — "Securing the Future of Journalism: How Discourse, Logics, and Champions Clarify Information Security in Journalism and Journalism Education"
Kwanho Kim — "Moderating Roles of Smoker and Vaper Identities in Tobacco Regulation Communication"
Amber Hye-Yon Lee — "How the Public Perception of Political Polarization Affects American Social Life"
Do Eon Lee — "Where the Two Trusts Meet: How Social Trust Influences Political Trust in the New Media Environment"
Hanna E. Morris — "Apocalyptic Authoritarianism in the United States: Power, Media, and Climate Crisis"
Samantha Oliver — "Networked Memorialization: Victims of Communism Memorials in Germany, Russia, and the U.S."
Rui Pei — "Cultural Influences on Social Norm Development, Perception, and Conformity"
Pawel Popiel — "Emergent Governance: The Politics of Competition in Digital Markets"
Leeann Siegel — "Exploring Variation in How Media Depictions of Tobacco Use Affect Norm Perceptions: The Roles of Group Identity and Behavioral Similarity"
Congratulations are also in order to the following Annenberg students who have earned their M.A. in Communication en route to the completion of their doctoral degrees.
David S. Cordero
Kinjal Dave
Nicholas Dias
Shane Sheehy
Shengchun Huang
Darin Johnson
Sophie Maddocks
Mariela Morales Suárez
Fallon Parfaite
Farrah Rahaman
In addition, Emma Jesch and Florence Zivaishe Madenga were recognized with the James D. Woods Award for outstanding teaching by a graduate assistant.