Jesch and Madenga Win 2021 James D. Woods Award
The award recognizes Annenberg graduate students for outstanding teaching.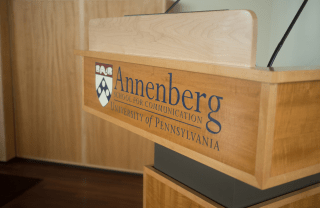 Doctoral students Emma Jesch and Florence Zivaishe Madenga received the James D. Woods Award at the 2021 Annenberg Graduation Ceremony. Given in memory of Annenberg graduate student James D. Woods, the award is granted to an outstanding graduate teaching assistant.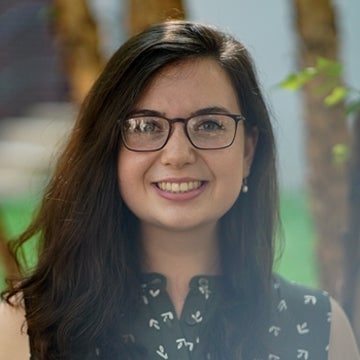 Jesch, a fourth year Ph.D. student, was nominated for Professor Joseph Cappella's undergraduate course COMM 275: Communication and Persuasion.
"In my judgement, Emma has everything it takes to be named an award-winning teaching fellow: excellence of mind, high standards, enthusiasm for her subject, and empathy for her students," said Cappella, Gerald R. Miller Professor Emeritus of Communication. "She is simply a terrific teaching fellow."
Cappella lauded Jesch's lecturing style and likened her demeanor while teaching to that of a senior lecturer. He praised her ability to deliver the information in a way that was easy for students to digest, and he was impressed by how she anchored theoretical concepts in concrete examples.
Jesch studies health communication — including mass media campaigns, media exposure, message effects, and persuasion — and explores how routine media coverage and targeted interventions impact health beliefs and behaviors.
A fourth year Ph.D. student, Madenga was nominated for Professor Carolyn Marvin's undergraduate course COMM 322: History and Theory of Expression.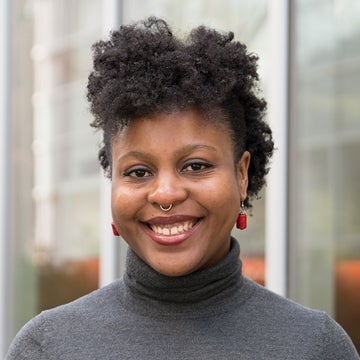 "Flo performed her responsibilities on time, with good humor, good judgement, and commitment to the task," said Marvin, Francis Yates Professor Emeritus of Communication. "She offers a superior example for the work that can be done by teaching fellows, and she is well-deserving of this award."
Marvin noted the extensive behind-the-scenes work Madenga did to improve the quality of students' experience in the course. She praised Madenga's ability to assess and meet the needs of individual students, excellent and thoughtful grading, and willingness to be a partner with Marvin in guiding the students throughout the semester.
Madenga researches the evolution and boundaries of journalism, media, identity, and power as they pertain to expanding and/or contracting globalization through multi-modal methods and decolonial frameworks.