In Conversation with Emile Bruneau: A Video Series
Watch Bruneau explain his research in his own words.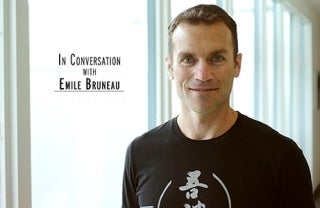 Peace and Conflict Neuroscience Lab founder Emile Bruneau devoted his career to using the tools of neuroscience to bring peace to groups of people in conflict around the world. When he received a brain cancer diagnosis in the final days of 2018, his reaction was not to grieve for himself and his family, but to accelerate his research and maximize his positive effect on the world in the time that remained. He did this with an incandescent positivity familiar to all who knew him. Bruneau passed away in September, and you can read more about his remarkable life here.
Bruneau conceived of this video series himself as a way to explain his research and its origins in his own life experience. Its four parts — an introduction, followed by videos on empathy, dehumanization, and metaperceptions — help explain different topics he and his colleagues studied.
Introduction
Empathy
Dehumanization
Metaperceptions