Falk Wins 2020 SANS Early Career Award
This award is the newest in a series of early career awards Falk has received.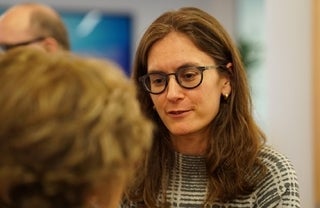 The Social & Affective Neuroscience Society (SANS) announced last week that Professor Emily Falk has been awarded its 2020 Early Career Award.
Founded in 2008, SANS is committed to research investigating the neural basis of social and affective processes. The SANS Early Career Award recognizes an early-stage investigator — within 10 years of receiving their Ph.D. at the time of nomination — who has made significant contributions to social and affective neuroscience through outstanding scholarship and service to the field. Winners receive a cash prize and are invited to give a short talk at the SANS annual meeting. Due to the cancellation of the 2020 conference, Falk will present her work at the 2021 virtual conference.
"SANS has been an intellectual home for me since the society was founded, so this award is particularly meaningful to me," said Falk.
Falk is a Professor of Communication, Psychology, and Marketing at the University of Pennsylvania, Director of Penn's Communication Neuroscience Lab, and a Distinguished Fellow of the Annenberg Public Policy Center. Falk is an expert in the science of behavior change. Her research uses tools from psychology, neuroscience, and communication to examine what makes messages persuasive, why and how ideas spread, and what makes people effective communicators. Her team's work ranges from basic science investigations of how the brain makes decisions to links between mind, body, and community, to applied questions about health, civic engagement, and social justice.
In addition to the SANS Early Career Award, Falk has previously been honored with other early career awards including: the Young Scholar Award from the International Communication Association (ICA), the Young Faculty Award from the Defense Advanced Research Projects Agency (DARPA), the New Innovator Award from the National Institutes of Health, the Rising Star Award from the Association for Psychological Science, and the Early Career Award from the Attitudes Division of the Society for Personality and Social Psychology.