Jackson and Tan Mentor Doctoral Students on Conducting Community-Engaged Research
Thanks to a new Penn program, doctoral students Antoine Haywood and David S. Cordero are getting hands-on research experience.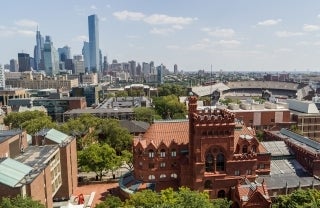 Dean John L. Jackson, Jr. and Professor Andy Tan are both mentoring Annenberg School doctoral students this summer as part of the Penn Graduate Community-Engaged Research Mentorship (GCERM) program, facilitated by the University of Pennsylvania's Netter Center.
The 10-week program offers an opportunity for graduate students interested in community-engaged research — including those who may not know how to begin — to work on smaller scale, short-term projects guided by experienced faculty mentors. Participating students receive a $3,500 stipend and are part of a learning community with faculty and other students interested in this work across different disciplines.
"Penn's Compact 2022 emphasizes the foundational value of impact, innovation, and inclusion to everything we do from our campus perch," says Jackson, Richard Perry University Professor and Walter H. Annenberg Dean. "The new GCERM program is another excellent example of how the university continues to operationalize these key commitments."
Entitled "Critical Journalism, Social Justice, and Community Change," Jackson's project aims to reimagine journalistic practices in Philadelphia. In partnership with Resolve Philly, Jackson and doctoral student Antoine Haywood are researching ways that journalism can amplify community voices and needs while also combatting misinformation, battling biases in reporting, and helping to create more equitable outcomes for local residents. Their goal is to assist Resolve Philly in engaging Philadelphians as they work to find tangible and measurable solutions to social problems through journalism and mass media.
"Working with a faculty mentor such as Dean Jackson helps me think through how this project can be done in a way that benefits our community partner and a broad audience," says Haywood, who is about to begin his fourth year at Annenberg. "As an emerging scholar, it is important for me to learn how to engage in collaborative research projects and share insights that resonate with audiences inside and outside of academia."
Tan's project, entitled "Understanding Barriers and Facilitators of Mental Health First Aid (MHFA) Implementation in Philadelphia," seeks to understand why MHFA skills are under utilized despite an increase in training in recent years. In partnership with Healthy Minds Philly, Tan and doctoral student David S. Cordero are assessing MHFA skills implementation, identifying barriers to using MHFA skills, measuring rates of skills renewal, and evaluating MHFA knowledge through focus groups. Findings from their evaluation will inform future strategies to improve utilization of MHFA.
"Having learned about community-based participatory research in Dr. Tan's class last spring, I was thrilled at the opportunity to experience firsthand research engaging with the city of Philadelphia," says Cordero, who is about to begin his third year at Annenberg. "I was in awe of how many partnerships and community organizations he actively collaborates with, and now I am just beginning to see the level of hard work that goes into fostering such strong relationships."
The GCERM program offers students an opportunity to compare the knowledge they've learned through their coursework with the challenges facing real-world organizations and apply lessons from each to their own work. This type of research fosters a conversation between academia and practice that strengthens both.
"I'm delighted to be part of the GCERM program and working with students on this kind of research," says Tan, Associate Professor of Communication and Director of the Health Communication & Equity Lab, "because building long-term trusting relationships with local organizations is foundational to creating impact in the community through research."