MIC Receives $1 Million Grant To Continue Research on Philadelphia News Media
The "Shift the Narrative Coalition" will focus on changing news narratives around policing, trauma, safety, and crime in Philadelphia.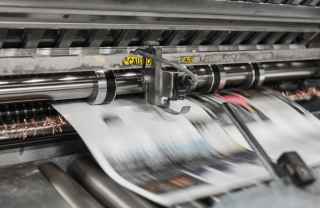 Over the past two years, researchers at the Media, Inequality and Change (MIC) Center, a collaboration between the University of Pennsylvania's Annenberg School and Rutgers University's School of Communication and Information, have been analyzing Philadelphia's media ecosystem in an effort to make it more diverse and equitable.
Their efforts got a boost last week as Independence Public Media Foundation, which originally funded the work in 2019, awarded MIC an additional $1 million to continue and expand on their research.
The media holds power — in what stories get told and by whom, in who is listened to and who is ignored. These decisions, when made by local media outlets, shape perceptions of a place, of neighborhoods, community figures, and institutions. They influence whether a city is seen as "safe" or "dangerous," whether police action is seen as "just" or "unjust."
The grant enabled the MIC Center to partner with Philadelphia's Movement Alliance Project and the national media reform group Free Press to start "Philadelphia's Media Ecosystem," a project imagining what local media could and should look like in the Philadelphia region.
Using the initial grant, the MIC Center analyzed how local news organizations serve or do not serve the public through their staffing decisions, audience distribution, sourcing, and community relations and proposed methods to improve Philadelphia's news ecosystem.
Research sponsored by the grant includes investigations into how public media systems contribute to the health of democracy, determining which audiences in Philadelphia are underserved by the media and by internet service providers, and how public media might correct commercial media's flaws.
Reports produced by the 2019 grant include:
With this new grant, MIC researchers, along with Movement Alliance Project and Free Press, have turned the Philadelphia's Media Ecosystem project into the "Shift the Narrative Coalition," an effort to change news narratives around policing, trauma, safety, and crime in Philadelphia. Future research will focus on collaborations between media and communities to build effective and fair local reporting. 
Thanks to the grant, MIC will be partnering with Making Worlds Bookstore and Social Center in Philadelphia to host workshops and conversations between scholars, journalists, and activists about race, media, movements, and journalism. Some questions they hope to answer: How are activists and scholars developing their analysis and strategies to assist social change? How can journalism be transformed to become more of a democratic force in society? How are workers organizing and what are their relationships to the existing media system? How can society create new public media institutions that are democratically owned and controlled by local communities?
The Independence Public Media Foundation funds and supports media and related programs that strengthen and connect diverse voices and foster greater understanding across communities in Greater Philadelphia.