Narratives of COVID-19 in China and the World
The two-day symposium covered a broad range of topics, from racism against Chinese students studying in the United States to digital workplace surveillance of Chinese workers.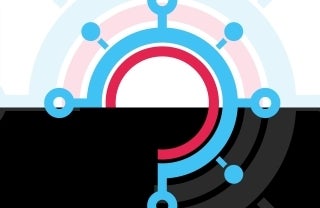 A two-day symposium on the narratives of COVID-19 in China brought together scholars and students from across the globe to virtually discuss the impact of the pandemic on politics, technology, society, and nations. Presenters shared papers on a broad range of topics, from racism against Chinese students studying in the United States to digital workplace surveillance of Chinese workers.
More than 500 participants registered for the symposium. Attendees logged on from China, Singapore, South Africa, Canada, the United Kingdom, and the United States, including Philadelphia, said Guobin Yang, Grace Lee Boggs Professor of Communication and Sociology in the Annenberg School for Communication and Department of Sociology and director of the Center on Digital Culture and Society, which co-sponsored the events with the Center for the Study of Contemporary China (CSCC).
The symposium, supported in part by a grant from the Penn China Research and Engagement Fund, got underway March 19 with recorded remarks from Annenberg Dean John L. Jackson Jr.
"I hope that you get out of these discussions not just new ways to theorize and conceptualize the current challenges linked to the pandemic but also figure out ways of linking theory to practice, of trying to find a way to translate these important academic discussions into real world impact," he said.
Yang asked the group for a moment of silence to mourn the victims of the shootings in Atlanta that killed six women of Asian descent, and said the violence transformed the nature of the conference.
"The rising waves of protest and the atrocious hate crimes against Asian American women in Georgia have given us a new purpose," he said. "Our symposium is now also a deliberate act of protest against racism, xenophobia, and hate. It is an expression of solidarity with Asian, Asian American, and Pacific Islander communities."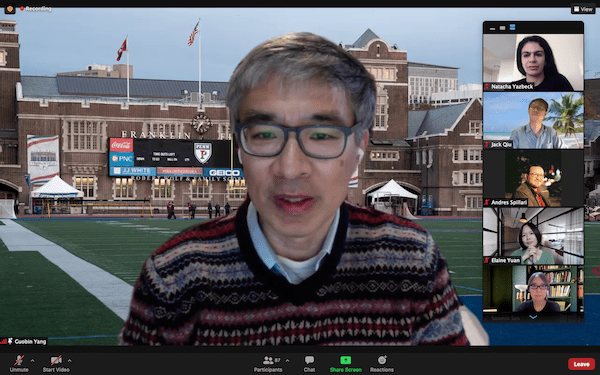 The format involved two scholars presenting papers on a panel theme each hour, with moderators leading the talk, two discussants offering responses to the papers, and audience questions at the end.
As part of the Racism against Chinese Students and Asian Americans discussion, Bingchun Meng, a communications professor at the London School of Economics, presented a piece entitled "Cosmopolitan Imperative or Nationalist Sentiments: Mediated Experiences of COVID-19 Pandemic among Chinese Overseas Students." She co-authored the paper with Zifeng Chen, also of LSE, and Jingyi Wang of the University of Cambridge.
"The papers in every panel speak so well to each other in formulating a fascinating dialogue at multiple levels," said Meng after the symposium wrapped up. "It is also a luxury for the authors to hear such astute comments and feedback from exceptionally engaged discussants as well as audience members."
Moderators throughout the two-day event included Yang; Amy Gadsden, associate vice provost for global initiatives and executive director of Penn China initiatives; Jacques deLisle, the Stephen A. Cozen Professor of Law and director of CSCC; Scott Moore, director of the Penn Global China Program; Julia Ticona, assistant professor of communication at Annenberg; Yue Hou, assistant professor of political science at Penn; and Benson Zhou, a postdoctoral fellow at CSCC.
After moderating a panel on connections and conflicts between China and Africa, Gadsden shared a story about asking Yang why people should study contemporary China.
"And in his wonderful way, very calmly and quietly, he turned to me and said, 'China is the drama of our time,'" she said. "I have reflected on that for many years, and I think this panel allows us once again to see how the study of China allows us to illuminate so many other topics and issues."
Yang said the depth and scope of the presentations and discussions far exceeded his expectations.
"They spoke directly to critical public issues happening right now," he said, noting Penn is uniquely positioned to bring together such scholars.
"Penn's stellar corps of experts in media and contemporary China studies made this an easy event to organize," he said.
The papers presented at the symposium will be published by the Michigan State University Press in a book series on U.S.-China Relations in the Age of Globalization.