Victor Pickard Wins Mott Book Award for America's Battle for Media Democracy
With an eye to history, the book considers how the American media system became what it is today.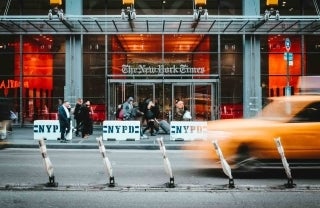 Open the cover to Professor Victor Pickard's latest book, America's Battle for Media Democracy: The Triumph of Corporate Libertarianism and the Future of Media (Cambridge University Press), and you'll encounter some thought-provoking questions — questions made all the more relevant in this election cycle: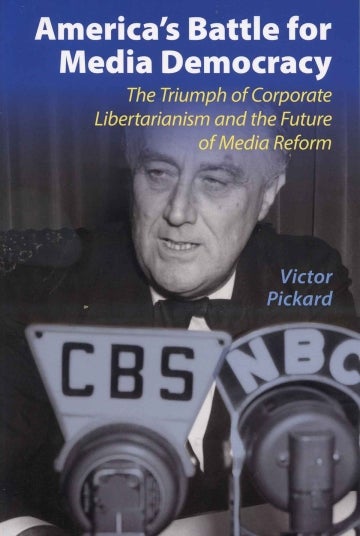 How did the American media system become what it is today? Why do American media have so few public interest regulations compared with other democratic nations? How did the system become dominated by a few corporations, and why are structural problems like market failures routinely avoided in media policy discourse?
Pickard's book explores answers to these questions, showing how the media policy battles of the 1940s ultimately led to the system we have today and ultimately finding that the current commercial model is not serving American democracy. Click here to watch a video of Pickard discussing the book.
For this work of scholarship, he has been awarded the 2015 Frank Luther Mott – Kappa Tau Alpha Journalism & Mass Communication Research Award for the best research-based book about journalism or mass communication published last year.
The award is named after Frank Luther Mott, a historian and Pulitzer Prize-winning journalist for the 1939 book A History of American Magazines. Mott served as the Dean of the journalism school at the University of Missouri. He was also the longtime leader of Kappa Tau Alpha, a college honor society that recognizes academic excellence and promotes scholarship in journalism, which began giving the award in 1944.
"Pickard's important book speaks loudly to the current debates about the nature of the internet and arguments for and against net neutrality," according to Andrew Mendelson, Kappa Tau Alpha national president and a finalist judge.
Pickard is the second winner in a row from the Annenberg School. Professor Diana Mutz, along with her co-author Seth Goldman, won the 2014 Mott Award for their book The Obama Effect: How the 2008 Campaign Changed White Racial Attitudes.