Annenberg & Penn Medicine
Message Effects Lab
Message Effects Lab
Messages matter. They can influence our health-related behaviors by shaping our decisions, emotions, and motivation. How do you know which health messages will have the right effect? We can help.  
Together with the Perelman School of Medicine, the Annenberg School is pleased to support the work of the new Message Effects Lab (MEL). Because many well-intentioned health messages have no effect or even "backfire" by decreasing healthy behavior, MEL uses empirical evidence to identify the most promising messages for behavior change interventions. When the message matters, we use science to craft it. 
We can support your goals if you want to: 
Apply advances in psychology and message effects
Identify and target mechanisms of behavior change
Tailor intervention approaches to your unique research needs
Leverage validated methods and theory
Determine what works best and why
MEL is providing scientific guidance to domestic and international governments, as well as industry. Some examples of recent success and ongoing projects:
Our Director, Jessica Fishman, Ph.D., spoke to the World Bank about designing interventions to change health-related behaviors.
Working with Penn Medicine, we have identified message content that reduces COVID-19 vaccine hesitancy.
In collaboration with The Children's Hospital of Philadelphia, we have developed text message content that increases flu vaccination appointment scheduling and actual vaccination.
We have been scientifically advising companies like Wawa and Independence Blue Cross/Blue Shield when they seek to implement proven-effective behavior change strategies.
In partnership with the Government of Canada (Behavioural Science Impact and Innovation Unit, Privy Council Office), we are sharing strategies that reduce COVID-19 vaccine hesitancy.

Supported by the National Institutes of Health, we are comparing strategies to increase COVID-19 testing.

With support from the Centers for Disease Control, we are working to increase firearm safety behaviors to protect against self-harm opportunities.

With our input, the Philadelphia Department of Public Health established a vaccine incentive program. 
"We are grateful for the input of the Message Effects Lab in helping us to understand the type of incentive best supported by the evidence as we worked to design this program." -Cheryl Bettigole, Health Commissioner, Philadelphia Department of Public Health.

Photo Credit (top image): airfocus / Unsplash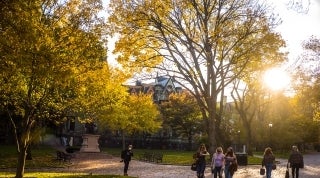 Read More About the Lab
In Penn Today, Message Effects Lab Director Jessica Fishman, as well as one of her collaborators, Annenberg professor Andy Tan, discuss their vision for the lab and some of the projects they are working on.