"Amplifying Their Stories": Ukrainian Visiting Scholars Spend a Year at Annenberg
For the 2022-23 academic year, Annenberg's Center for Media at Risk is hosting three Ukrainian scholars and mediamakers, hosting several public events to share their insights and knowledge.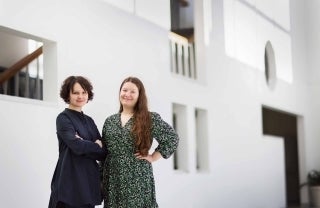 Dariya Orlova, a visiting scholar at the Center for Media at Risk at the Annenberg School for Communication, is teaching two courses this year.
At Annenberg, she teaches a graduate seminar, sitting with her students around a large table.
She taught her other course at Annenberg too — from her office. The students are more than 4,000 miles away in Kyiv, Ukraine, learning about journalism while monitoring for the air raid sirens that send them scrambling.
"It's not easy these days because of electricity disruptions," Orlova says. "I usually have 16 students, but in recent weeks I've only had six or seven because the others can't connect."
Orlova is one of three Ukrainian visiting scholars this academic year at the Annenberg School for Communication's Center for Media at Risk. A former journalist turned scholar, Orlova arrived at Penn in the fall, along with filmmaker Olena Lysenko. A third scholar, Yevhen Fedchenko, is legally unable to leave Ukraine full-time, but he has visited Penn and is engaged in the fellowship from afar.
The Center for Media at Risk's mission is to free, defend, empower, and protect media across the globe, and as part of that, it hosts several visiting scholars or practicing journalists each semester. It intentionally keeps programming and priorities fluid so that it is able to respond to global events.
"When Russia began its full-scale assault on Ukraine, it was very clear that if there's one group of media practitioners and media scholars who need a public light to be shown on them to make clear the risks that they're facing: it was those in Ukraine," says Director Barbie Zelizer, the Raymond Williams Professor of Communication at the Annenberg School.
Leaving Ukraine
From an outside perspective, it would be easy to see the invitation as a way for the scholars to escape to safety. But when she got Zelizer's invitation, Orlova did not see it that way at all. In fact, she was reluctant to leave Ukraine in its hour of need.
I was really determined to stay in Ukraine as long as I could, understanding that things might become so complicated that it would make sense to leave the country," says Orlova.
In the month following the Russian invasion, she was contacted by colleagues from around the world who offered academic opportunities, but she turned them down. She wanted to be with her fellow Ukrainians during this very difficult time.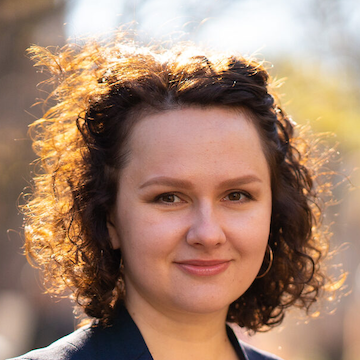 "I was extremely surprised to get an email from Professor Zelizer, asking if I might be interested in this opportunity," says Orlova. "I had read her books, but I never expected her to contact me. Although I had been determined to stay in Ukraine, I thought coming to Annenberg, a place that is so important to the field, would be a unique opportunity."
For Lysenko, coming to America offered a chance to catch her breath and see her work from a new angle.
Since the Euromaidan Revolution and Russian aggression in the region starting in 2014, Lysenko had worked nonstop to share Ukrainian stories with the world. In the midst of war in 2022, she guided foreign reporters from NPR across the country, setting up interviews and translating for them. She has also worked as a fixer for Vox and The Wall Street Journal.
"To be honest, I was really overwhelmed from working during a full-scale invasion," she says. "When you are on the inside, it can be hard to understand what is actually important, so this is an opportunity for me to understand, from the outside, what we need to document in Ukraine."
Journalists and Scholars
All three of the visiting scholars are practicing journalism in different ways, while Orlova and Fedchenko also teach at the Mohyla School of Journalism at the National University of Kyiv-Mohyla Academy.
Orlova started her career as a journalist, writing for the Kyiv Post, a weekly English-language newspaper.
Over time, she found that she enjoyed researching journalism more than practicing it. Her current research focuses on Ukrainian journalists' professional identity after the start of the Russia-Ukraine war in 2014, when Russia annexed Crimea — as well as media consumption among Ukrainians, especially in border areas.
"In 2014, I became interested in exploring how Ukrainian journalists see their own professional and social identities, because at that time many journalists became activists. Some of them even went into politics. About a dozen became members of parliament," she says. "There must be forces in the community that made them leave journalism or somehow combine journalism with other things."
On February 8, she will give a colloquium at Annenberg about Ukrainian journalists' experience with the war, and how they perceive themselves and their role.
Scholarship and Film
Olena Lysenko comes to Annenberg after years of working as a documentary filmmaker and producer in Ukraine. She received a Ph.D. in law, but turned her focus to filmmaking as she watched the annexation of Crimea unfold in 2014.
"I was trying to make sense of what was happening, to find a way to document such important events in Ukrainian history," she says. "I met Jason Blevins, an American documentarian, and we started to document basically everything that was happening during the Euromaidan Revolution up to the current Russian aggression."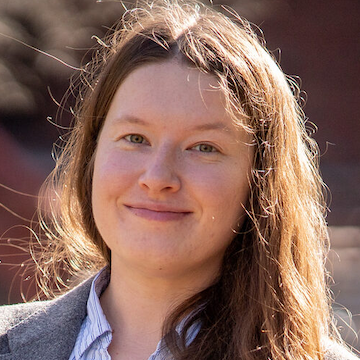 Their documentary, "I Never Had Dreams of My Son," tells the story of a father looking for his lost son, a Ukrainian soldier who left home to fight Russian aggression in eastern Ukraine. The film recently won the Special Jury Recognition award at the New Orleans Film Festival.
One of the first things Lysenko did when she arrived in the U.S. was attend the festival.
"It was a huge honor to be selected and to receive a Special Recognition there," Lysenko says. "The festival is extremely welcoming and community-minded. I learned a lot about the history and culture of the South. The majestic oak trees covered in moss were my favorite sight."
Life in America has felt a bit like a movie, she says. During her first few weeks in the U.S. strangers seemed like characters in Hollywood blockbusters.
Currently, Lysenko is working on a documentary about Ukraine's Film Archive. On February 22, she will hold a workshop at Annenberg on ethical approaches to documentary filmmaking.
A Focus on Facts
Unlike Orlova and Lysenko, Yevhen Fedchenko isn't living in Philadelphia during his time as a visiting scholar. Because of Ukrainian martial law, as a military-aged Ukrainian man, Fedchenko cannot leave the country full-time, but he is participating in research from afar.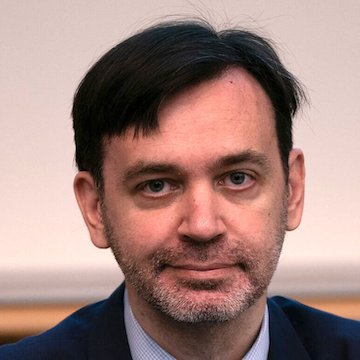 In December 2022, Fedchenko was able to join Orlova and Lysenko as a panelist at the Center for Media at Risk's Annual Symposium "Media Practice in an Emergent World Order." Fedchenko spoke about the fact-checking site he co-founded, StopFake.org, which dispels fake news about Ukraine in both Russian and English. A video of their panel can be accessed here.
Since the start of the war, the space for truth in Russian media is getting smaller and smaller, compressed by the proliferation of propaganda, says Fedchenko.
"When the war against Ukraine started in 2014, my colleagues, my students, and I got together at our school of journalism and started to think about what we could do as journalists to respond to this war, rather than just going to fight in the trenches, which a lot of my colleagues did and many of them died," he told attendees at December's symposium. "We decided that we would be fighting disinformation — because from our point of view this war was completely constructed through disinformation."
During his visits to Penn, Fedchenko works with different groups on campus interested in tackling Russian disinformation. He is part of the Ukraine Working Group organized by The Center for Ethics and the Rule of Law and the Annenberg Public Policy Center that develops recommendations on responding to nuclear blackmail.
"For me, the opportunity to work with Professor Zelizer and the Center for Media at Risk brings new academic horizons and being a part of the Annenberg family is a unique chance to be at the epicenter of media studies," Fedchenko says.
 
In April, Fedchenko will be working on a joint project with the Annenberg Public Policy Center's FactCheck.org and the Center for Media at Risk on fact-checking as a tool to debunk disinformation.
Art During War
In addition to hosting the three scholars, this spring, the Center for Media at Risk is partnering with the Fulbright Program in Ukraine to host an exhibit of photographs taken by American and Ukrainian photographers depicting war and its aftermath in Ukraine. The exhibition will be open to the public to view at the Annenberg School for Communication's first-floor forum beginning in April, with an opening reception and curator discussion planned for April 13.
The exhibit opening will kick off the Center for Media at Risk's Spring Forum, "How Is War Changing Media Futures in Ukraine?" The following day (April 14), all three visiting scholars will participate in a half-day symposium, with Lysenko screening her film, Orlova discussing media scholarship, and Fedchenko providing information on fact-checking. More information about these events will be available on the Annenberg website.
The News from Home
Even though they are in Philadelphia, Lysenko and Orlova are actively monitoring the situation in Ukraine.
"To be honest, my thoughts are constantly about the war and uncertainty of the future and at times, it can be challenging to stay creative," Lysenko says. "Some of my friends joined the Ukrainian Armed Forces and are now fighting on the front lines. I go online to check if they are okay. "
"In Ukraine you see and you feel and you witness real deaths, real destruction, broken lives," Orlova told attendees at December's symposium.
A Look Toward the Future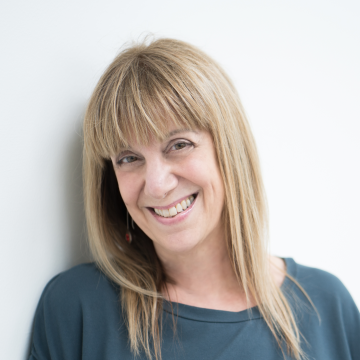 Zelizer and everyone at the Center for Media at Risk plan to sustain relationships with Orlova, Lysenko, and Fedchenko long after the semester is over.
"There is a worry that Ukraine becomes a headline and headlines by definition become smaller when other news takes its place," Zelizer says. "The issue is that that does not go hand in hand with what actually happens on the ground. "Ukraine is still suffering as much now as it was before."
 
"These three scholars' work reflect a wide range of the spectrum in thinking about what media practice looks like right now in Ukraine and what kind of expectations we can have for its future," Zelizer says. "We want to know how we can amplify their stories in ways that might make a difference on their end."