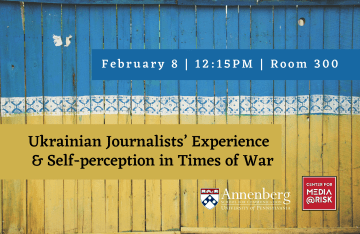 Center for Media at Risk Colloquium: Dariya Orlova, National University of Kyiv-Mohyla Academy
"Ukrainian Journalists' Experience and Self-perception in Times of War"
About the Talk
Ukraine has been a challenging place to work for journalists, especially after the Euromaidan Revolution that started in late 2013, culminated in February 2014 with the regime change and was then followed by Russia's annexation of Crimea and war in the east of Ukraine. The Euromaidan and subsequent war in the East of Ukraine made many journalists face a dilemma between professionalism and activism, between values of professional neutrality and shared solidarity with fellow citizens. Russia's full-scale aggression has reinforced this dilemma, severely aggravated conditions for Ukrainian journalists and brought about a number of new challenges, including exceptional risks to life and safety, lack of resources, restrictions posed by martial law and enormous psychological pressure caused by the atrocities, to name a few. This presentation will focus on Ukrainian media and journalists' wartime professional experience and dynamics of self-perception in the face of ongoing war.
About the Speaker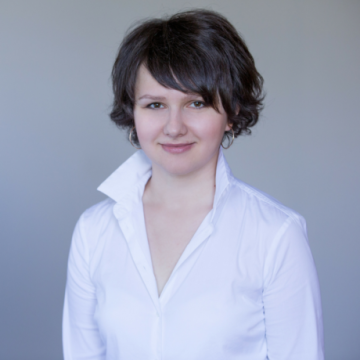 Dariya Orlova is a media researcher and Senior Lecturer at the Mohyla School of Journalism, National University of Kyiv-Mohyla Academy, where she studies the transformation of Ukrainian media and journalism, journalists' professional identity in post-Euromaidan Ukraine and media use amongst Ukrainian border populations. Prior to her academic career, Orlova worked as a journalist for the English-language publication Kyiv Post and served as editor of the European Journalism Observatory in Ukraine. This year, she is a visiting scholar at the Center for Media at Risk at the Annenberg School for Communication. Orlova's work can be found in peer-reviewed journals, including Journalism Studies, Central European Journal of Communication and Journalism: Theory, Practice and Criticism.
Disclaimer: This event may be photographed and/or video recorded for archival, educational, and related promotional purposes. We also may share these video recordings through Annenberg's website or related platforms. Certain events may also be livestreamed. By attending or participating in this event, you are giving your consent to be photographed and/or video recorded and you are waiving any and all claims regarding the use of your image by the Annenberg School for Communication. The Annenberg School for Communication, at its discretion, may provide a copy of the photos/footage upon written request.