Communication Major Tyler Burke Creates Documentary on Jewish Matchmaking
Burke's film explores both matchmakers and their modern online replacements in the world of Jewish dating.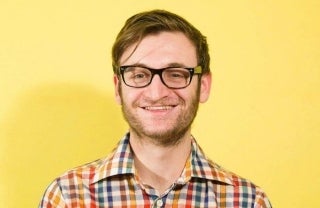 By one estimate, nearly 50 million people in the U.S. have tried online dating. It's no surprise, then, that most of us know someone who found their partner online.
It's less common these days that singles seek love via a matchmaker. While still a thriving business in specific countries and communities, matchmakers almost seem like a quaint throwback to an earlier time. 
It's that cultural shift that interested Tyler Burke C'17.
In a new documentary film project, the Communication major and Los Angeles native, who will graduate in May, is exploring both matchmakers and their modern online replacements in the world of Jewish dating. Titled "Make Me a Match," it was originally an independent study project supervised by Professor Jessa Lingel. Now, Burke is expanding the film outside of class, along with his co-producer Amanda Prager (C'18), with the goal of submitting it to the Ivy Film Festival next month.
At the outset of his documentary project nearly seven months ago, Burke hoped to compare various types of matchmakers, including Indian, Jewish, and secular. However, as often happens with documentaries, the filmmaker follows where the project leads, and Burke, who isn't Jewish, found himself focusing solely on the Jewish community.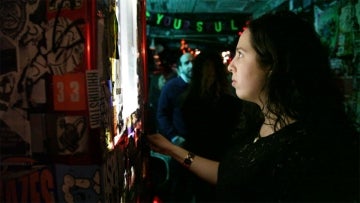 The documentary features two Philadelphia-based Jewish matchmakers — Danielle Selber, who works for the non-profit Tribe 12, and Lori Salkin, who works for the matchmaking business Saw You At Sinai. Selber tends to work with local clients who identify as progressive and culturally Jewish, while Salkin has mostly conservative and Orthodox clients who are located throughout the Northeast.
While most people who seek the services of both Selber and Salkin are looking for someone of the opposite sex, Selber does accept clients who are searching for same-sex partners.
Burke had a more difficult time including clients in the film. One client found a partner using an online dating site, before she was even set up on any dates by the matchmaker. Another client, who initially seemed keen on participating in the film, didn't make the final cut. Burke ultimately chose to focus on the matchmakers and, thus, included only B-roll of clients.
In the course of his research, Burke found that most of the people using matchmaking services are also doing online dating. Some matchmakers — like Selber — even assist their clients with online dating profiles. To learn more about this phenomenon, Burke contacted David Yarus, the founder of Jewish dating app J-Swipe, and was able to secure an on-camera interview.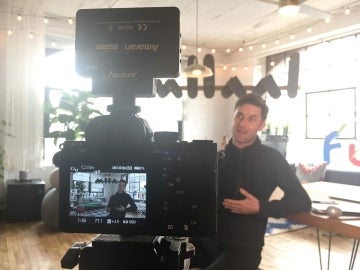 "Spending time with the matchmakers, listening to them discuss the patterns they've noticed by working with their clients, was so cool," says Burke. "Their thoughts on attraction, problems facing daters, and matchmaking were very insightful. I love engaging with people who are knowledgeable and experienced with their craft."
In addition to this film, Burke has made two other documentaries at Penn. The first, for Prof. Molly McGlone's Music and Urban Spaces class, was about DIY aesthetics and punk rock music. The second, for Prof. Jessa Lingel's Urban Ethnography class, was on A-Space, an anarchist social center in West Philly focused on community building through the arts.
Burke also worked as an intern or production assistant on two feature films, a web series, and a Netflix documentary series, Abstract: The Art of Design. Last year, he won second place in the Ivy Film Festival's 48 Hour Film Competition for a short film, "No Whammies." He currently is doing cinematography and light and sound editing for a web series written by one of his friends.
Although he considered attending film school, Burke decided a liberal arts education would be more beneficial, so he chose Penn, not really knowing where he would focus his studies. He says majoring in Communication was a good fit for him because the courses, particularly those in visual studies and media studies, applied specifically to film while still allowing him to explore communication on a broader scale.
After he graduates, Burke plans to spend a year in New Zealand working as a freelancer videographer. He hopes that creating a robust portfolio of footage will land him a job on a camera crew. Burke has some connections in the film industry, but he knows he'll still have to work his way up the ladder. He hopes to eventually work on feature films, but he says he'll always love documentary.