David Lydon-Staley Studies the Small Moments that Shape Human Behavior
Lydon-Staley will join the Annenberg School faculty as an assistant professor in July.
David Lydon-Staley is obsessed with the concept of time. As a scientist of human behavior, he considers how the everyday moments of our lives combine to shape who we are and the decisions that we make. By stretching out the timescale and looking at life's micro-components, the decision to pick up a cigarette, the choice to consume a piece of media, or that sudden mood that comes over us can be understood quite differently.
The fascination with time has even become physical: he and his husband have matching clock tattoos to symbolize their synchrony.
A new time in his own life will begin on July 1 when Lydon-Staley joins the Annenberg School for Communication as an assistant professor of communication.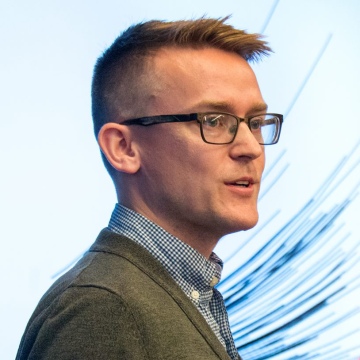 Growing up in Galway, Ireland, where his primary and secondary schooling was in the Irish language, Lydon-Staley was drawn early on to the idea of being a scientist. He ended up studying English Literature and Psychology at Trinity College Dublin, where both disciplines shed different lights on human behavior.
He pursued his Ph.D. in Human Development and Family Studies at Penn State University, drawn to something he also enjoys in the field of Communication: interdisciplinarity.
At Penn State, Lydon-Staley studied the cognitive neuroscience of adolescence — how the brain changes over time and how this might place adolescents at risk for substance abuse or dangerous thrill-seeking behavior. He also had the ability to indulge his considerable curiosity, working with diverse colleagues to study the associations between alcohol and sleep, the role of craving in opioid and substance abuse, and how to model day-to-day emotions as networks.
In the final year of his Ph.D. program, Lydon-Staley attended a talk by Penn Engineering professor Danielle Bassett about her use of network methods to analyze the human brain. It proved so intriguing that he has spent more than two years as a postdoc in Bassett's lab, where he has further incorporated network methods into his work.
In 2019, he received a five-year Mentored Research Scientist Development Award (K01) from the National Institute on Drug Abuse to study person-specific dynamic networks of nicotine withdrawal, shining a light on how different withdrawal symptoms may impact one another from moment to moment, and their implications for smoking cessation.
"Every behavior, no matter how simple it might seem on the surface, is always the output of a complex system that's changing all the time," says Lydon-Staley. "If you think of something like substance use, you have a whole list of things that could act as risk factors: your family environment, the availability of cigarettes or other drugs, your exposure to media messages, what the brain is doing at a given moment. You can study these things in isolation, or you can conceive of them as a complex system where they're all interacting with one another over time."
These minutiae of daily life may seem inconsequential in isolation, but added up over time, they form the basis of large and enduring effects.
"There's been some great work by Annenberg faculty in message effectiveness and exposure to public health campaigns and drug-related information," he says. "I'm really interested in bringing timescale to that."
Historically, researchers tend to bring human test subjects into the lab to measure them once at a given point in time. And while that can help characterize the differences among people — as well as having its practical advantages — it makes it difficult to ascertain why someone might be more likely to smoke on one day but not another, or in one moment but not another.
While in the past, researchers would ask subjects to keep a journal of their day, smartphone apps now offer more ways to monitor people's lives. The next frontier, Lydon-Staley says, is making better use of the stream of passive data our phone can collect: things like our activity levels, the media you are engaging with, whether our screens are on or off, whether we're awake or asleep, or when we're on the phone or texting.
"By collecting rich data on that shorter timescale," he says, "I can actually see what you're doing in your daily life."
Given that the majority of daily smokers begin smoking during adolescence, much of Lydon-Staley's work focuses on that vulnerable period. His lab at Annenberg will be called the Addiction, Health, & Adolescence Lab, or AHA! for short. "AHA!" also does double-duty as an expression of Lydon-Staley's own commitment to being curious and encouraging lab members to pursue interesting research questions.
"David has been highly collaborative in his research and shows strong creativity in combining questions and approaches from network science, psychology, neuroscience, and developmental science, all in service of answering real world problems," says Annenberg School Dean John L. Jackson, Jr. "He will contribute significantly to Annenberg's strengths in media effects, health communication, political communication, network analysis, and more."
Outside of academics, Lydon-Staley, who in his youth was a two-time world champion Irish dancer, enjoys different team sports, from playing dodgeball and kickball with Stonewall Sports to dancing with Independence Squares, an LGBTQ square dancing club based in Philadelphia.
The Annenberg School looks forward to welcoming him to our faculty!