Doctoral Student Florence Madenga Studies Journalism, Censorship, and Internet Shutdowns on the African Continent
What counts as journalism and what doesn't? Why are certain types of storytelling censored and others aren't?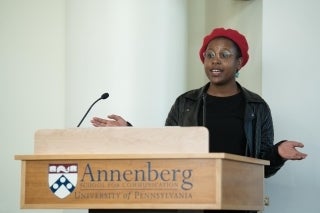 Shortly after she first moved to Philadelphia, Florence Madenga wandered into a block party happening in her neighborhood and found herself right at home. She didn't know anyone, but quickly found that folks were friendly and talkative, which she describes as a welcome change from years of living in New York City.
Madenga, now a third-year doctoral student at the Annenberg School, appreciates the openness and candor with which many Philadelphians conduct themselves, and she says it's great for doing the kind of ethnographic research she's interested in.
"In Philly, not only are people willing to talk to you about anything," she says, "they're going to tell you what they actually think and feel about it, no holds barred."
Madenga originally wanted to be a journalist — she has a master's degree in media and politics from New York University — but after a few years of freelancing, she realized that she was more interested in studying journalism than doing it. After talking to her sister Tadiwanashe, who is pursuing a Ph.D. in African and African American Studies, she decided a doctoral degree might be the right route for her too.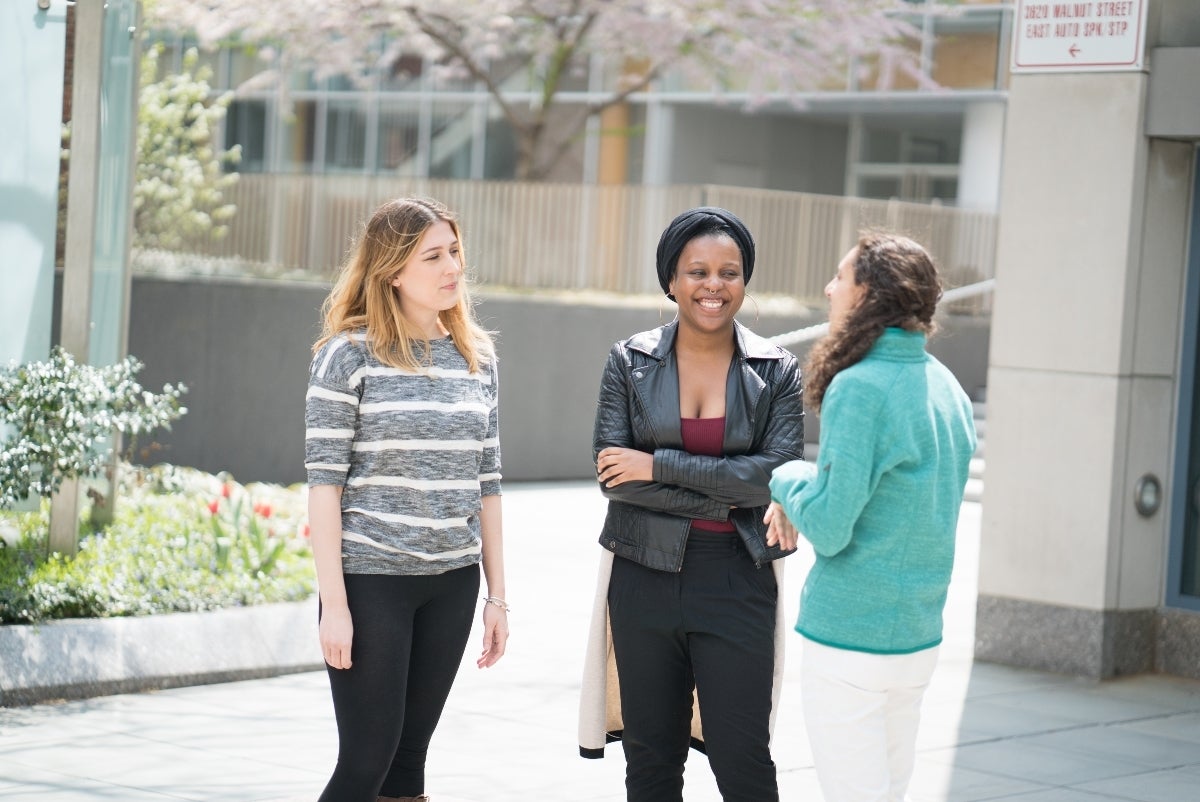 At Annenberg, Madenga is seeking to better understand how we define journalism and nonfiction storytelling at large. Through ethnographic interviews and archival research, she considers questions like: What counts as journalism and what doesn't? Why are certain types of storytelling censored and others aren't? Why do people choose to tell the stories they tell?
"I've always been interested in nonfiction and how people tell stories," says Madenga. "I want to understand how different kinds of storytelling manifest, and where and how we draw the line between storytelling genres."
Her focus is currently on state censorship of journalism and internet shutdowns in African countries. In Zimbabwe, where she grew up, Madenga is investigating how satire journalism and humor news are less likely to be censored by the state. Despite doing rigorous political commentary, storytelling that brands itself as comedy, rather than "serious" journalism, is able to avoid censorship, and she wants to understand why.
She recently published a book chapter on her work analyzing hate speech and human rights issues in Rwandan magazines from the 1990s, and she is currently conducting research on internet shutdowns in Cameroon. For the latter, she is building on previous work she did on internet shutdowns in Zimbabwe, published in Information, Communication & Society.
Unfortunately for Madenga, the coronavirus pandemic has severely impacted her research plans. She had to cancel her scheduled field work in Zimbabwe last summer, and she'd ideally be conducting in-person interviews with sources in Cameroon, but is instead doing them over Zoom, which has proven quite difficult.
"There is an irony to attempting to conduct interviews about internet shutdowns over the internet," she says. "I recently interviewed a source, and we got cut off five or six times and had to keep switching to different video chatting platforms, eventually finishing the interview via text. This makes the process much more difficult, but there is an upside. I'm experiencing in real time the problems the sources are describing, which is prompting me to ask questions I wouldn't have thought of otherwise."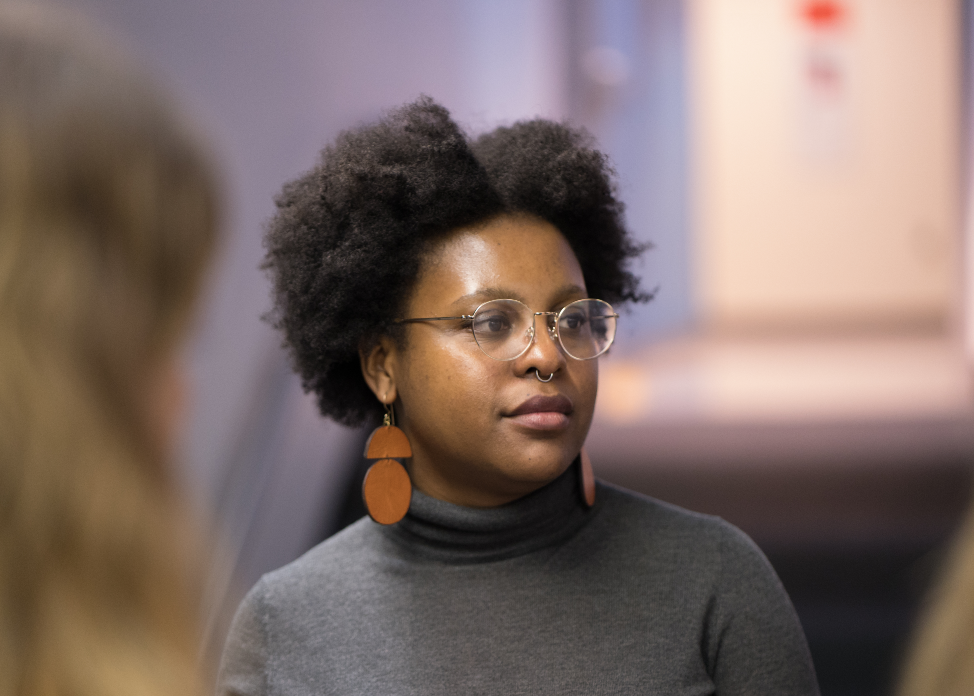 Madenga is involved in several initiatives at Annenberg, including a Center for Advanced Research in Global Communication (CARGC) writing group and the steering committee for the Center for Media at Risk (CMR). She has also produced several podcast episodes for CMR. When she interviewed Rutgers University assistant professor Chenjerai Kumanyika for Episode 11: Stories of Race and Power, she greeted him in Shona, recognizing his name as Zimbabwean. But Kumanyika doesn't speak Shona, isn't from Zimbabwe, and has never even visited, so a bit of comical confusion ensued. (As it turns out, his family's surname is Zimbabwean, and was inspired by a relative's visit to Zimbabwe.)
In addition, Madenga has been a teaching fellow for Litty Paxton's COMM 388: Ritual Communication and Carolyn Marvin's COMM 322: History and Theory of Freedom of Expression. Madenga loves teaching and was grateful to learn from both faculty members, who she calls masters of their craft. This semester she is looking forward to being a teaching fellow for her advisor Barbie Zelizer's COMM 339: Critical Perspectives in Journalism. And last summer, she solo taught a series of courses — on applying to college, applied economics and finance, writing for different audiences, and career pathways — for high schoolers as part of Penn's Rising Senior Summer Academy.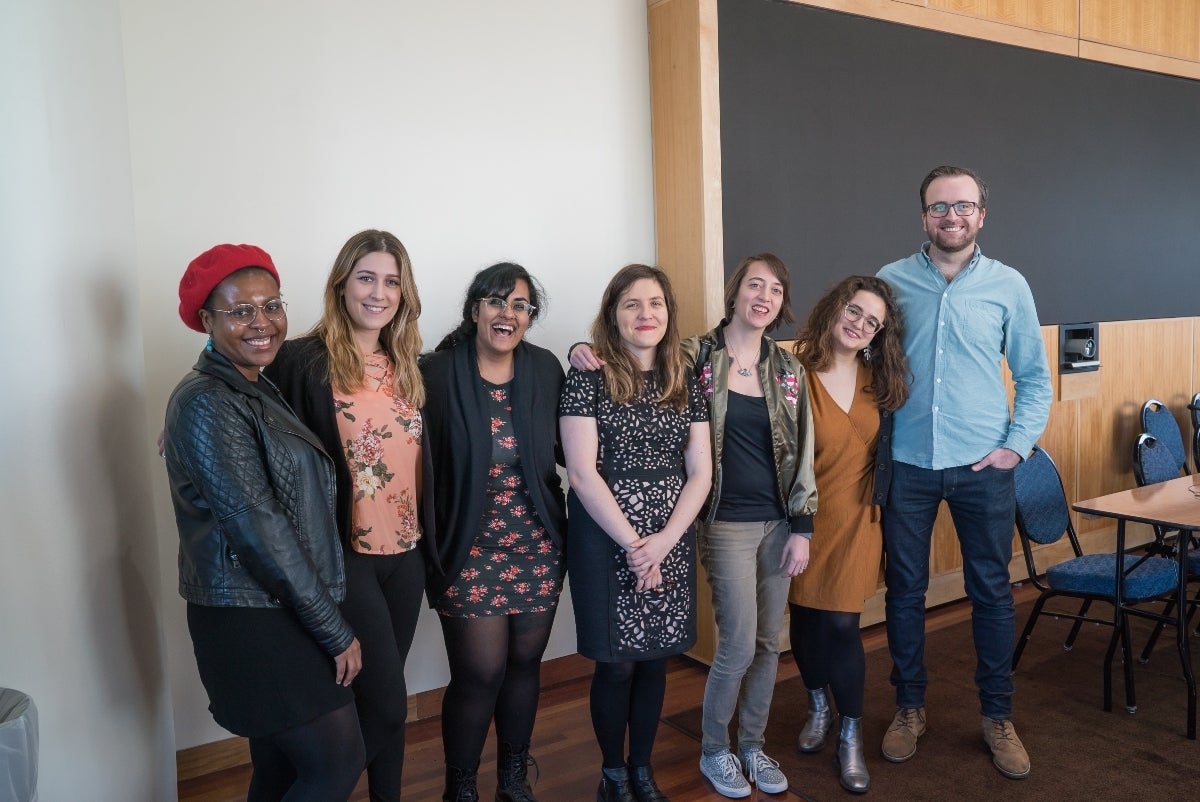 "I've been surprised by how much I enjoy undergraduates," says Madenga. "I never would have imagined that I'd get excited about grading papers, but it's very rewarding to see students grapple with new concepts and write something really great as a result."
When she first began her doctoral program at Annenberg, Madenga wasn't intending to be a long-term academic. But her teaching experiences — and serving as a Graduate Associate in Harnwell, one of Penn's college houses — has made her reconsider. She also enjoys her research, and can't think of another job where she can spend most of her time trying to find answers to the things that keep her up at night.
Whatever career path she chooses, it's important to her that she not become siloed in academia or research. She wants her work to always remain applicable to and in conversation with "real people on the ground."