Eleven New Doctoral Students Join the Annenberg School
Learn about where they've lived, their previous work experience, and what they study.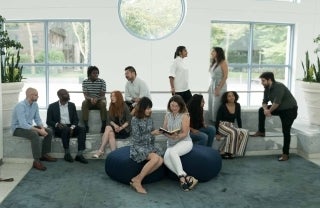 This semester, the Annenberg School is pleased to welcome 11 Ph.D. students, who bring with them professional accomplishments, life experience, and research portfolios — and interesting hobbies too.
Nearly all of the new students have lived outside the U.S. With research interests in code-switching and mentalizing, Darin Johnson — who says he loves any content created by Oprah — lived in Madrid, Spain, where he was an English teacher in the public school system, before beginning to work with the Communication Neuroscience Lab at Annenberg. Fallon Parfaite, who has lived in Bangkok, Thailand, comes to Annenberg directly from her undergraduate years at Northwestern. She enjoys reading novels by Toni Morrison and Octavia Butler and is interested in studying the philosophy and ethics of emerging technologies.

Half of the first year students arrived at Annenberg having already earned master's degrees. Interested in the ways norms around political correctness or civility are established, avid hiker Nicholas Dias is a joint doctoral student in Communication and Political Science and holds a master's degree in journalism from the Columbia Journalism School. Shane Sheehy, who enjoys building furniture, earned a master's degree in media, culture, and communication from New York University. He studies propaganda, mass politics, and how those things are mediated through online spaces. Focused on digital media, algorithm driven platforms, and digital news consumption, Shengchun Huang received her master's degree in journalism and communications from Tsinghua University in China. She says her favorite place to spend a few hours is the library.

While some students come to Annenberg directly from undergraduate or graduate programs, other students arrive from various professional positions. Yoga lover David S. Cordero, who plans to study how social networks and existing technologies can help individuals cope with mental illness, previously worked at IBM, where he led worldwide events marketing. Interested in race, rhetoric, technology, and activism, Kinjal Dave was a research analyst at Data & Society Research Institute, where she investigated how the white mainstream press has historically amplified white supremacists. She likes to knit and tend her herb garden. Sophie Maddocks, who held various teaching and advocacy roles in the U.K. public school system, enjoys open water swimming and studies cyber civil rights, gender and sexuality, youth media literacy, and popular culture.

Not all of the first year students are new to Penn. An alumna of Annenberg's undergraduate program in communication, Mariela Morales Suárez, who loves spending an afternoon at The Barnes Foundation, studies issues of digital sovereignty in socialist, post-communist, and authoritarian nations. A former undergraduate fellow with CAMRA at Penn, Farrah Rahaman is interested in activist and artist networks fighting against colonialism in the Caribbean and Latin America. She enjoys cooking and is an amateur DJ. Live music enthusiast Melissa Skolnick-Noguera is a joint Ph.D. student in Social Work and Communication, having already completed three years toward her degree at the School of Social Policy and Practice, and a documentary filmmaker currently investigating how immigrants in Philadelphia use media and the arts to produce counter narratives and impact policy.
Welcome, new students!
Assil Frayha, a twelfth new Ph.D. student, will join the Annenberg School in January 2020, at the start of the Spring semester.