Jackson Joins MIC Center as Co-Director
Jackson's research on media use by and representation of marginalized publics intersects with and complements the MIC Center's mission.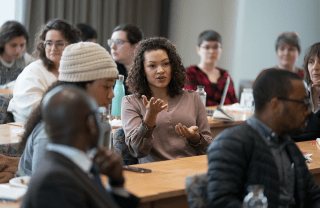 The Media, Inequality & Change (MIC) Center — a joint project of the Annenberg School for Communication at the University of Pennsylvania and the School of Communication and Information (SC&I) at Rutgers University — announced today that Sarah J. Jackson has joined the center as a co-director. Jackson, Presidential Associate Professor at Annenberg, is the third co-director of the MIC Center, alongside founding co-directors Victor Pickard, Professor of Communication at Annenberg, and Todd Wolfson, Associate Professor of Journalism and Media Studies at Rutgers SC&I.
"Todd and I are beyond thrilled to join forces with Dr. Sarah Jackson, who is a leading authority on Black and feminist activism, social movements, and the representation of marginalized publics," says Pickard. "Dr. Jackson's ongoing research on Black media-makers and her commitment to social justice are perfect matches with the MIC Center's mission. We look forward to collaborating closely with her and amplifying MIC's work for many years to come."
Jackson studies how media, journalism, and technology are used by and represent marginalized publics, and she is an expert on how communication constructs identity and shapes social change in U.S. culture. Her research focus intersects and complements Pickard's work on the future of journalism and Wolfson's work on new media and social movements. Each of the three co-directors brings a unique scholarly background and approach to the MIC Center's core mission: addressing structural inequality in all its forms.
The MIC Center explores the intersections between media, democracy, technology, policy, and social justice, and produces engaged research and analysis while collaborating with community leaders to help support activist initiatives and policy interventions. The MIC Center's objective is to develop a local-to-national strategy that focuses on communication issues important to local communities and social movements in the region, while also addressing how these local issues intersect with national and international policy challenges.
Jackson, Pickard, and Wolfson each spearhead their own projects out of the MIC Center, while also tackling joint projects. The MIC Center's structure — which includes being a joint project of two universities, having three tenured faculty members working together as co-directors, and a commitment to partnering with local communities — is based on a fundamental belief in, and serves as a model for and a testament to, the power of collaboration.
"Collaboration is an important part of my ethic as a scholar and community member," says Jackson. "I look forward to helping to strengthen the relationship between the Annenberg School for Communication, Rutgers' School of Communication and Information, and community activists as we ask, answer, and address important questions about media and social justice."
To engage more with the MIC Center, attend one of its virtual events this semester. In October, the center will host a panel with the three co-directors to discuss the center's research interests and ongoing projects. And in December, the MIC Center and the Center for Media at Risk are co-hosting a symposium on Black media-makers, which is part of Jackson's Carnegie Fellowship project.