Toni Walker C'20 Visits South Africa to Study Black Womxn and Queer Artists
Her research explores the nuances of freedom and democracy particularly for marginalized communities.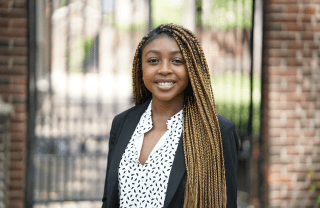 Graduating Communication major Toni Walker C'20 spent 12 days in South Africa conducting research as part of her undergraduate fellowship with the Annenberg School's Center for Advanced Research in Global Communication. What follows is her first person account of the trip and how it informed her work.
As my brother and I laughed and conversed with a few local artists on a rooftop lounge overlooking the bustling suburb of Braamfontein, Johannesburg, I was overcome with a feeling of warmth. Although we had just met these artists, it felt more like a reunion with old friends. After a few quick introductions, we seamlessly began exchanging stories and piecing together the similarities and differences in our experiences. I was only midway through my research trip in South Africa and somehow, a moment that I spent months envisioning, managed to exceed my expectations. 
My journey to this moment began last year, when I was working on my final project for COMM 352: Politics and Popular Music under the instruction of then CARGC postdoctoral fellow Rayya El Zein. This project took the form of a multimedia blog, where I explored how Black queer South African musicians have evolved the musical genre, Kwaito, to explore new meanings of freedom in post-apartheid South Africa.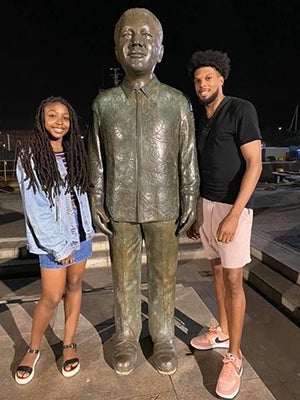 After completing the project, Rayya encouraged me to pursue an undergraduate fellowship with the Center for Advanced Research in Global Communication (CARGC) where I would have the opportunity to turn this research into an original publication and potentially travel to South Africa for field work. After spending a semester learning about South African culture and politics from afar, the opportunity to experience what I researched in person was one I couldn't pass up. Less than a year after beginning the fellowship and with the support of CARGC, the Center for Undergraduate Research and Fellowships (CURF), and the Center for the Study of Ethnicity, Race, and Immigration (CSERI), I was able to expand on my research through a 12-day trip to South Africa during spring break.
In "Rethinking Freedom: Centering Black Queer and Black Womxn Artists in Post-Apartheid South Africa," I build on my previous work in COMM 352, to explore how Black womxn and Black queer artists across a range of disciplines and mediums engage in conversations around freedom.
The end of Apartheid in South Africa began in the early 1990s and culminated with the nation's first democratic elections in April of 1994. This moment is memorialized in a number of ways in South Africa, most notably the annual celebration of the public holiday Freedom Day on April 27. Conversations around freedom in post-apartheid South Africa are often attached to the 1994 political transition to democracy. However, the meaning of freedom expands far beyond that moment. In my research project, I turn to the work and voices of Black womxn and Black queer multidisciplinary artists in order to understand the nuances of freedom and democracy particularly for marginalized communities.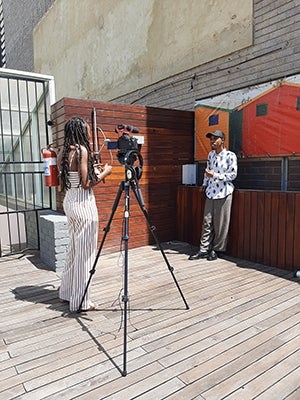 In the first week of March, just before coronavirus upended normal life, my older brother and I took a 22-hour flight to Cape Town, South Africa. Over the next 10 days, I visited several art galleries and exhibitions and conducted in-depth interviews with nine Black womxn and Black queer multidisciplinary artists based in both Cape Town and Johannesburg.
Each of these artists had a unique artistic journey to share. Some of them found their passion for creativity in music while others found theirs in different forms of visual art. But none of these artists restricted themselves to any single lane. Whether working across music, videography, performance, or textiles, these artists were all determined to use the multitude of mediums at their disposal in order to find innovative ways to share their stories.
In the moments leading up to my first interview, I remember rigorously taking notes and rehearsing the meeting in my head. But all of my anxiety seemed to melt away after meeting my first interviewee, Umlilo, who warmly welcomed me into their home for a thoughtful conversation about their career. From being featured in the movie Sarafina as a child to working as a journalist to pushing boundaries in music and art as a multidisciplinary artist, Umlilo's artistic journey has spanned across many genres and mediums. But through it all, their commitment to honoring all parts of their identity in their work has allowed them to grow both as an artist and person.
As someone who grew up as part of the "born free" generation in the early years of Post-Apartheid, Umlilo spoke about the ways that young people in particular came to represent the hopes and aspirations of the country. But as they grew into their own identity, Umlilo found that the concept of freedom that was ingrained into them as a child was flawed particularly for womxn and queer people. 
Many of the other artists that I spoke with echoed Umlilo's sentiments. In an interview with multidisciplinary artist, Bonolo Kavula, she spoke about the way that the idea of the rainbow nation prevailed especially in the early 1990s. However, she mentioned that recent movements spearheaded by members of the "born free" generation are shedding light on the inequalities that persist.
It is through their work that artists like Kavula and Umlilo are able to express an evolved understanding of freedom that challenges dominant narratives and celebrates the range of experiences across a limitless spectrum of identities. During my visits to the different art galleries, I was able to put the themes from my discussions with South African artists in conversation with the displayed art pieces, allowing me to see the unique ways that freedom is explored both in South Africa and throughout the African diaspora.
Although truly appreciating the beauty of both the people and the land would require way more than 12 days, I'm glad that I was able to at least get a glimpse of all that South Africa has to offer during my trip. Furthermore, I'm even more thankful for the meaningful relationships that I was able to build in such a short time. In the fall, I look forward to publishing a paper with CARGC along with a multimedia essay capturing the main takeaways from the art pieces, interviews, and gallery visits during my trip. Ultimately, it is my hope that this work will demonstrate the power of centering the voices of marginalized communities in order to highlight both the shortcomings and possibilities of democracy.