Amy Siskind Donates The Weekly List Collection to the Annenberg School Library
In addition to archiving the website, Annenberg will house Siskind's podcasts, video, and related personal memorabilia.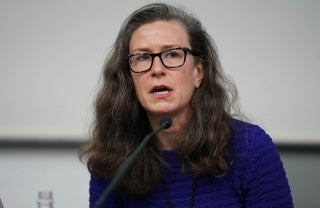 What happens to websites when their owners stop using them? Absent an institutional archivist, most will silently disappear, either with the push of a button or the obsolescence of their technology.
When writer and activist Amy Siskind decided to wrap up five years of work on www.theweeklylist.org, chronicling the erosion of democratic norms and institutions following the 2016 election, friends urged her to find a university to archive it for future scholars seeking to understand these unprecedented events. While the site had been accepted into the Library of Congress, Siskind worried a government archive could become politicized. She wanted to ensure that her effort to document the period in a straightforward, factual way would exist unaltered by any efforts to rewrite the history of this era.
In Fall 2020, Siskind approached Annenberg Professor Barbie Zelizer, Director of the Center for Media at Risk, about the possibility of donating her content curation, The Weekly List, to the University of Pennsylvania, where it can be made available for future researchers.
"I reached out to Barbie and she immediately got the importance of the collection and its place in history," says Siskind. "So often we understand the importance of historical artifacts after they're gone. She understood the importance of preserving the lists and podcasts with their context, almost as a 'first draft of history,' so that a hundred years from now, people can have a detailed sense of what it was like to live in the era."
The Annenberg School for Communication is a scholarly home for students and researchers of Communication theory, history, and practice. Siskind's lists, personal writing, podcasts, and artifacts over a politically tumultuous five-year snapshot in American history are a valuable contribution and resource worthy of preservation and accessibility to scholars in this area in years to come.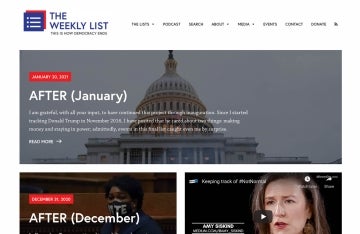 The Weekly List materials are among the first gifts to Penn containing significant digital and web-based components. As such, the collection presented a number of novel technical and legal challenges. A team from the Penn Libraries, the Annenberg School, and Development & Alumni Relations worked closely together with Siskind and her team for many months.
"Our combined efforts have resulted not only in a valuable addition to Annenberg's holdings but also a better understanding of what the requirements of a university-wide digital-archives program might look like moving forward," says Jordan Mitchell, Archivist and Digital Data Specialist at the Annenberg School Library.
The Weekly List began in November 2016 as a list of nine examples of American norms broken, meant to be shared with Siskind's friends and social media followers. The list went viral – by week nine, it got two million views. By 2020, the each week's list could top 300 items. Lists from the first year were released as a book called The List, described by the Washington Post book critic as the most helpful book of 2018.
The collection will include a weekly podcast that Siskind began in 2018 to accompany the lists as well as videos and personal memorabilia she collected along the way, like letters and gifts from readers. She also gave the school one of several keyboards that she used so frequently that the letters wore off. Content from the site will also be available to library visitors on a special terminal.
"I am proud and ecstatic that Amy has chosen the Annenberg School and Penn as the home for her valuable and irreplaceable materials," says Zelizer. "They constitute an important repository that will guide everyone wanting to know more about what transpired over five complicated years in the nation's history."
Annenberg Dean John L. Jackson, Jr. agrees.
"We are excited about accepting the archived site, bibliography, podcasts, and analog materials that, together, represent Amy's incredible journalistic contributions during a pivotal moment in our country's history," says Jackson. "I know that students and researchers will benefit from the tremendous insights contained within the materials, and the Annenberg School considers itself lucky to be the recipient of this timely and important gift."