Annenberg Penn and USC Annenberg Host Summer Doctoral Institute on Difference in Media and Culture
Over four days, Ph.D. students from both schools workshopped their research on diversity and representation in media and culture.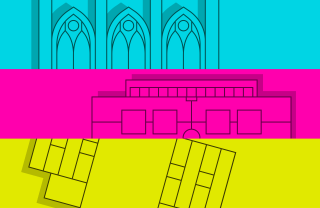 Archives are often viewed as unbiased historical records, but as doctoral student Kinjal Dave points out, we need to think about who compiled that archive and why. She is currently working to unpack the racism and exploitation often embedded in data collection and archival practices, particularly in digital archives. 
Last week, Dave workshopped this research at the annual Annenberg Summer Doctoral Institute on Difference in Media and Culture. Held virtually from June 14-17, the institute included 10 doctoral students from the Annenberg School for Communication at the University of Pennsylvania and the Annenberg School for Communication and Journalism at the University of Southern California. The students presented on a wide array of interesting topics, including sexism and sexual misconduct in the American music industry, mutual aid practices and support networks among New York sex workers, how Philadelphia artists use their work as a social justice organizing tool, satire journalism and state censorship in Zimbabwe, and much more.
"The Summer Institute has been an amazing way to connect with esteemed faculty at both Annenberg Schools," says Dave, who just completed her second year at Annenberg Penn. "I received really substantive feedback, and the faculty were great about making space for us to discuss issues about being a graduate student that are of concern to us."
Founded at USC Annenberg in 2014 by Professor Sarah Banet-Weiser, the institute offers an opportunity for doctoral students to workshop their research on diversity or difference, broadly defined, with peers and faculty mentors. In addition to presenting parts of their dissertations, students can engage faculty and one another in discussions about navigating academia.
"We founded the institute as a way to think through issues of race, gender, and overall difference in media, and to start a larger conversation about difference and intersectionality in the field of communication," says Banet-Weiser. "As conditions around technology and digital media continue to shift, it's important to consider how difference is mobilized and circulated in media."
Since its inception, the institute accepted approximately 20 students from around the country to participate in the week-long program, as well as welcoming faculty from a variety of universities. In 2019, USC Annenberg and Annenberg Penn decided to forge a closer partnership, bringing in their own faculty to run the institute. The program was cancelled in 2020 due to the COVID-19 pandemic, returning this year virtually and including students and faculty from Annenberg Penn and USC Annenberg only.
"We've always been really fortunate that the students and the faculty who participate in the institute are not only incredible scholars, but wonderful human beings," says Taj Frazier, Associate Professor of Communication at USC Annenberg and the organizer of this year's event. "Being part of this community of thinkers is always an energizing and exciting experience, and it's a reminder for me of how fortunate we are to have such talented people at USC Annenberg and Annenberg Penn."
The institute has been described by faculty as a safe place to fail, and the students agree. Having an opportunity to present work-in-progress and receive positive and supportive feedback is incredibly important for graduate students.
"The Summer Institute faculty pursue independent scholarly work, as well as work relating to social justice and social change," says Grace Yuehan Wang, who received her Ph.D. in May from USC Annenberg, and presented on gender controversies in China through the lens of online reality television shows. "And faculty very generously share their insights and ideas to help young scholars like me understand how our work is situated within the current academy. To anyone considering a career in academia, I would say: Don't lose your faith. The light is on, and your group of likeminded scholars is out there."
Participating students included: Kinjal Dave, Florence Zivaishe Madenga, Melissa B. Skolnick-Noguera, and Ryan Tsapatsaris from Annenberg Penn, and Caitlin Dobson, Perry B. Johnson, Paulina Lanz, Lauren Levitt, Tyler Quick, and Grace Yuehan Wang from USC Annenberg.
Participating faculty included: Taj Frazier, Hector Amaya, Ben Carrington, Annenberg Penn alumna Robin Stevens (Ph.D. '09), and Cristina Mejia Visperas from USC Annenberg; Ezekiel Dixon-Roman, LaCharles Ward, and John L. Jackson, Jr. from Annenberg Penn; and Sarah Banet-Weiser, who will hold academic appointments at both schools as of July 1.