The Annenberg School Welcomes Twelve New Doctoral Students
Due to the ongoing pandemic, our newest cohort of doctoral students joined the School virtually this fall.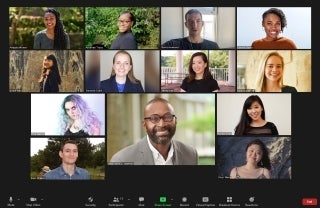 The Fall 2020 semester is an unusual one, given that all Annenberg School courses are being offered virtually due to the COVID-19 pandemic. The Annenberg School is nonetheless pleased to (virtually) welcome 12 new Ph.D. students, who bring to the program a diverse array of professional accomplishments, life experience, and research portfolios.
Many of the new students originally hail from countries outside the U.S. Chloe (Jae-Kyung) Ahn's hometown is Seoul, South Korea, and she studies the role of group identity on the formation of public opinion and political behaviors in the current media environment. A multimodal scholar and artist interested in how communities and social movements employ art, activism, and social media, Pris Nasrat is originally from Manchester, England. Xinyi Wang is from Xi'an, China, and her research investigates the influence of media and technology use on health behavior. A Toronto, Canada native, Rachel Xian — who is a joint doctoral student in Political Science and Communication — researches how negotiation and cooperation spread from individual to international levels.
Over half of the first-year students arrived at Annenberg having already earned master's degrees. Cienna Davis — who completed her master's degree in North American Studies from the Freie Universität Berlin — studies the role of digital technologies and new media in the processes of racial identity formation and racial justice activism. Azsaneé Truss holds an M.A. in Instructional Technology & Media from Columbia University's Teachers College, and she researches how critical media literacy practices are learned, with a focus on socioeconomic status. Interested in the ways in which local news can facilitate engagement with state and local politics, Sam Wolken is a joint doctoral student in Political Science and Communication who earned his M.A. in Communication from Ohio State University.
While some students come to Annenberg directly from undergraduate or graduate programs, other students arrive from various professional positions. Baird Howland — who has worked as a data scientist and a middle school math teacher — conducts empirical research on American media diets and dominant narratives in the news media. Interested in studying sustainable business models for nonprofit news organizations, Louisa Lincoln previously worked for the Wisconsin Center for Investigative Journalism, NPR, and PRX. A former community organizer for Senator Elizabeth Warren, Adetobi Moses explores how rhetoric and cultural memory intersect with political realities particularly during global crises.
Most of the new students have previous experience conducting interesting research. While an undergraduate at Cornell University, Danielle Clark conducted research on the effects of exposure to contradictory dietary health information in the media. During her doctoral studies, she will consider the effects of mass media campaigns on health behaviors. Jenny Lee was previously a researcher at the International Sociotechnical Policy Lab, studying civil liberties competencies of federal agencies. At Annenberg, she is interested in focusing on the socioeconomic disparities created and amplified by surveillance technologies.
Welcome, new students!