Azsaneé Truss studies Black conspiracy theorizing as a form of vernacular theory rooted in critical understandings of history. Her work seeks to explicate the historical and cultural underpinnings of these practices and understand them through the lenses of storytelling and alternative forms of knowledge production.
Truss is a multimodal scholar who uses use podcasting, photography, collage, and other media, in addition to traditional written forms in her work. In accordance with Black feminist approaches to research, she seeks to disrupt hegemonic ideas about what constitutes legitimate scholarship through these practices, and by multimodally analyzing various forms of art and media created by others.
Prior to joining Annenberg, Truss earned her M.A. in Instructional Technology & Media from Teachers College, Columbia University (TC). Here, she studied the ways in which media production can be used to both teach youth critical media literacy skills and teach us about the world they hope to create. In coordination with her work as a fellow in the Media & Social Change Lab at TC, Truss's thesis was a multimodal magazine focused on using documentary film-making to facilitate youth participatory action research projects with the Educational Video Center. Her work has been published in the Harvard Kennedy School Misinformation Review and Critical Studies in Media Communication, and she was profiled as a featured graduate for her critical media literacy work at Teachers College.
Education
B.S., University of Maryland, 2015
M.A., Columbia University, 2020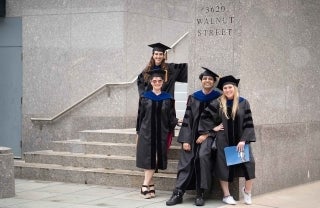 News
Eleven students earned their doctoral degrees, and 12 students received M.A. degrees.