Cienna Davis's research focuses on the role of the Internet and digital technologies in processes of racialization and racial identity formation. She is interested in ordinary practices of refusal and contestation of Black femme youth online.
Cienna Davis is a Black feminist community organizer and scholar. She received her bachelor's degree in Ethnic Studies and Communication from the University of California San Diego where she was a McNair Scholar. She then completed her master's in North American Studies at the John F. Kennedy Institute of the Freie Universität Berlin. Her writing and speaking on Afrofuturism, Black feminism, colorism, digital blackface, popular culture, and community organizing has been published in academic journals, books, and newspapers in the US, Germany, and Switzerland.
Davis is one of the original founders of Soul Sisters Berlin, a diasporic, Black feminist network where she organized workshops, social events, performances, roundtable discussions, and retreats with the goal of educating, empowering, and connecting Black womxn and femmes in Berlin. In Philadelphia, Davis is interested in the cultivation of embodied modalities of Black community care and healing through yoga practices, breath-work, birth-work, and more.
Broadly, Davis's research touches upon themes of Black feminism, race, performance, affect, new media economies, and embodied digitality. She is interested in the role of digital technology and the Internet in transforming processes of racialization and racial identity formation. Her recent work has focused on digital blackface and the increasing appropriation of Black femme affect, voice, bodily expression, style, and movement online. Her further research engages the growing and increasingly visible network of Black birth workers online, from midwives and doulas to reproductive justice advocates and Black-led birth centers, who employ social media to construct radical visions of Black life and futurity through focus on Black birth-givers and the birthing process.
Education
B.A., University of California San Diego, 2014
M.A., Freie Universität Berlin, 2019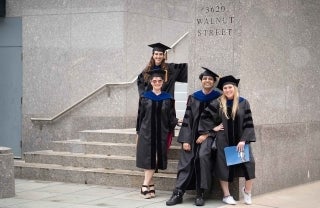 News
Eleven students earned their doctoral degrees, and 12 students received M.A. degrees.