Adetobi Moses explores how rhetoric and cultural memory intersect with political realities particularly during global crises. She also studies how the media and globalization inform transnational spaces, identities, cultures, and artistic practices.
Moses holds a bachelor's degree from Princeton University where she studied English Literature and minored in African American Studies.
She has always been interested in literature and other forms of artistic production, immigration, and global spaces. As an undergraduate student, she was the recipient of the A. Scott Berg Award, a grant that allowed her to spend a portion of the summer after her sophomore year researching and collaborating with African and Caribbean artistic communities in London.
Her senior thesis explored media coverage of "Brexit," and investigated more broadly how former sites of colonial power continue to interpret new political events or national crises through the lens of the colonial encounter.
At Annenberg, she plans to study how the media passes on cultural vestiges and values unto us as consumers, and how this is laid bare during times of political (domestic and global) crises. She is also interested in national narratives and founding myths and the ways they work invisibly to keep nations intact in the face of political threat.
Prior to Annenberg, Moses worked as a community organizer for senator Elizabeth Warren before receiving a Fulbright teaching grant to Spain, where she remained for an additional year working and writing as a freelancer.
Education
B.A., Princeton University, 2018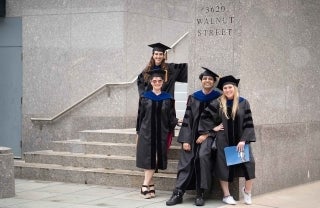 News
Eleven students earned their doctoral degrees, and 12 students received M.A. degrees.