Annenberg and Temple Host the Association of Internet Researchers in Philadelphia
Annenberg faculty, students, and alumni helped plan the 2023 conference, where they also shared their research.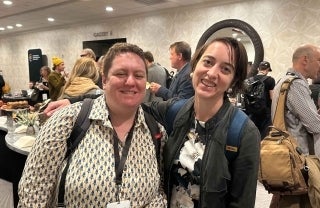 When the Association of Internet Researchers (AoIR) recently held its annual conference in Philadelphia, Temple University and the Annenberg School for Communication at the University of Pennsylvania served as both hosts and sponsors. 
What brought all those internet researchers to Center City? It comes down to one person who actually connects both Temple and Annenberg: Adrienne Shaw. 
Shaw, who received her Ph.D. from Annenberg in 2010, is an associate professor in Temple University's Department of Media Studies and Production and Klein College of Media and Communication. Shaw's research focuses on gamers and gaming, particularly on LGBTQ representation in gaming.
Shaw drafted and submitted the proposal to bring AoIR — pronounced "air" — to Philly, and then as planning committee chair, she did much of the legwork coordinating event spaces, overseeing the paper review process, planning the program, placing catering orders, handling emails, and drafting a guide to Philadelphia for attendees, among many other things. 
She also invited four of her Temple colleagues, as well as Annenberg School Professor Jessa Lingel, to form the organizing committee. 
In Lingel, she found an AoIR superfan.
"AoIR is my favorite conference," she says. 
Granted, thematically, this makes a lot of sense: Lingel is a researcher of digital culture, whose last two books addressed the gentrification of the internet and the history of Craigslist. But Lingel will persuade you it's more than that. "AoIR is such a wonderful community of people who are interested in developing scholarship about digital culture, infrastructure and policy," she says.
The Breadth of Internet Research
The presentations given by Annenberg faculty and students provide an illustration of how diverse "internet research" can be.
For example, Dean Sarah Banet-Weiser, along with former Annenberg Center for Collaborative Communication Postdoctoral Fellow Kathryn Claire Higgins (now a lecturer at Goldsmiths University of London), co-presented the paper "Digital Evidence and Digitized Doubt After #MeToo."
Higgins and Banet-Weiser, who are also co-authors of the new book Believability: Sexual Violence, Media, and the Politics of Doubt, spoke of how digital platforms are changing how accusations of sexual violence are made. The concept of evidence — "the receipts" — also is being remade, such that text messages, old social media posts, and screenshots are integral to a story seeming "believable." 
Those same platforms also can be used to discredit accusers. In fact, it is often more profitable within the commercial logics of those systems to promote contentious allegations that target the victim.
Men accused of sexual violence have complained of "trial by social media," arguing that the courts were a more appropriate venue. But, Banet-Weiser points out, "The legal mechanisms of the state are designed not to believe marginalized people." 
On a different panel, Professor Juan Llamas Rodriguez discussed the social media trend of labeling people "Whitexicans," a kind of mockery that usually (but not always) refers to Mexicans with light skin, but more importantly describes certain individuals as elite, out-of-touch, and unaware of their privilege. 
"My goal was to trace how this discourse on the internet encapsulates a wide array of concerns about class and race in the international definition of what it means to be Mexican," he says.
As an example, Llamas Rodriguez showed an Instagram post where an influencer appeared in front of — though not looking at or interacting with — a village woman selling dolls, oblivious that he was treating her more as a prop than a person. 
Whitexican is a kind of heuristic, he explains, used to name something that didn't previously have a word. "Even if the term never amounts to more than sociological mockery, it is making the process of racialization more explicit and legible, promising to further expose injustices."
Keynote, Plenary, and More
The Keynote and Plenary session also had Annenberg connections. 
Aymar Jean "AJ" Christian (Ph.D. '12), Associate Professor of Communication Studies at Northwestern University, delivered the keynote address, "Reparative Media: Cultivating Stories and Platforms to Heal Our Culture."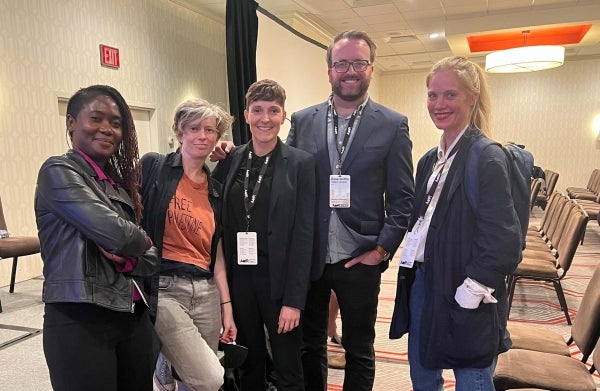 The following day, a plenary panel chaired by alum Lauren Bridges (Ph.D. '23) and Doctoral Candidate Zane Griffin Talley Cooper discussed "Global Challenges to a 'Green Revolution' for the Internet."
The panel called attention to the industrial reality of the internet, which is popularly conceived of as a kind of space-less, invisible hivemind. However, undersea cables, metal-clad satellites orbiting space, and water- and energy-consuming data centers are a material reality with environmental and human costs. 
"What might we gain by seeing the internet not as a thing (or collection of things)," they ask, "but as a process defined and determined by transnational flows of resources, materialities, labor, and practices of wasting?"
Bridges and Cooper initially proposed the topic as an ordinary panel, but Shaw and Lingel saw its larger potential. The plenary also paired with a multimedia exhibit in the Annenberg Forum about a related research project on the human and material costs of e-waste. 
(During the conference, Annenberg also held a reception for the exhibit, and many of the AoIR attendees dropped by Annenberg to see it.)
One of the plenary panelists, Vusumuzi Maphosa, the Information and Communication Technology Department Director at the National University of Science and Technology in Zimbabwe, had travel difficulties and had to appear virtually at the plenary. He and his colleagues were able to arrive soon after, however. 
Thanks to the staff of the Center for Advanced Research in Global Communication (CARGC), this unfortunate snafu turned into an impromptu post-conference, with Maphosa and three colleagues from Internet Society's Zimbabwe chapter discussing their research with Center members.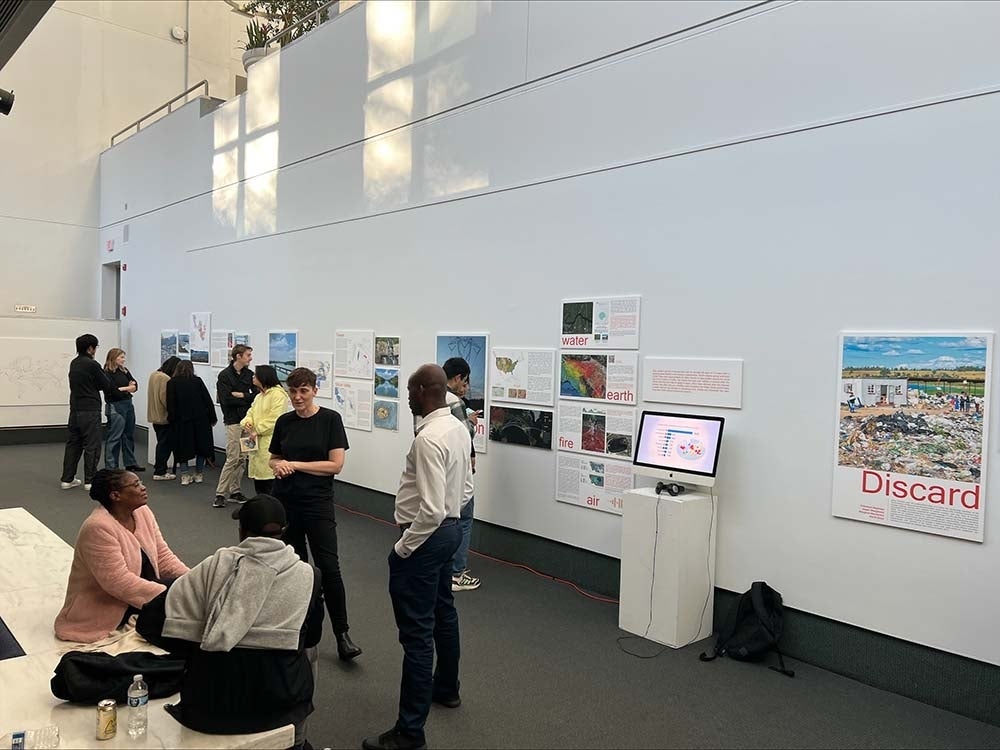 In addition to those mentioned above, other Annenberg presenters at AoIR included:
Professor Jessa Lingel presented at the workshop "Building an Alternative Social Media Network" and was a co-presenter alongside alum Elisabetta Ferrari (Ph.D. '19) on "Digital Ethnography: Reassembling, Reimagining, and Reinterpreting the Social."
Gerbner Postdoctoral Fellow Florence Madenga co-organized the Early Career Researcher Workshop and Professor Sarah J. Jackson was a panelist.
MIC Postdoctoral Fellow Pawel Popiel chaired the session "Misinformation 1" and presented the paper "Policy Friction and Platforms' Politics of Scaling."
Former postdoctoral fellows Chelsea Butkowski and Frances Corry, and Doctoral Student Adetobi Moses presented "Digital Memory, Pandemic Temporalities: Reflections on Studying and Storing Crisis Media."
Doctoral Candidate Brendan Mahoney chaired the session "Advantages and Limitations of Platform-Dependent Expression and was a panelist at the session "From Ideology to Infrastructure: Understanding the Construction of Alt-Tech Through the Discourse of Epik, Inc."
Doctoral Candidate Antoine Haywood was a panelist at the session "Reparative Media: Revolutionary Storytelling and Its Enemies in a Streaming Era."
Annenberg faculty also held two satellite events before and after the conference. These included "Turning Points: The Long 1990s in Internet History" organized by CARGC and "The Post-API Conference: Social media data acquisition after Twitter" co-organized by Professor Deen Freelon.